Prince Harry, Meghan Markle attend Ellen DeDeneres and Portia de Rossi's vows renewal. Watch
Feb 03, 2023 12:52 PM IST
Prince Harry and Meghan Markle were among the selected few attendees at the surprise vow renewal that Portia de Rossi planned for Ellen DeGeneres. Watch the full video here.
Prince Harry and Meghan Markle were among the few selected attendees who were present for Ellen DeGeneres and Portia de Rossi's surprise vow renewal this week. (Also read: Prince Harry says the Queen asked Meghan about Donald Trump in first meeting, and here is what she replied)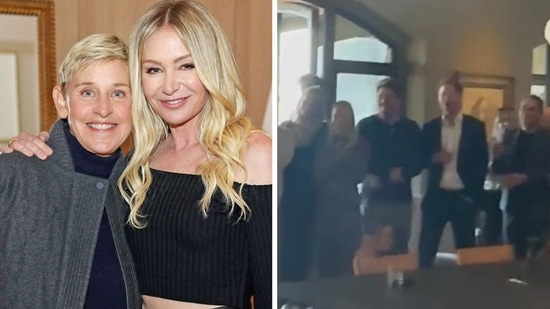 In a video that was shared on the YouTube channel of The Ellen Show, both the Duke and Duchess of Sussex were seen in the gathering which was initially just planned to be the 50th birthday party for Portia de Rossi yet the celebration was turned into a surprise vow renewal ceremony for both Ellen DeGeneres and Portia de Rossi. In the video it can be seen that the vow is officiated by Kris Jenner at their new home, where the star couple moved in last week.
According to a report from Page Six, an insider said, "They indeed attended and had a wonderful time celebrating Portia's birthday and the couple's vow renewal." In the video, Ellen is taken by surprise as Portia de Rossi took her hands and stood by her at the main living room area from where Kris Jenner started reading from a paper. Portia wore her 2008 Zac Posen wedding gown, and then quickly changed into the dress before the ceremony started. Both the Duke and Duchess of Sussex were seen smiling with the other attendees as they watched Kris Jenner officiate the ceremony for the couple, who have been married for more than 14 years.
Some of the other attendees from the event included Katy Perry, Orlando Bloom, Gwyneth Paltrow, Jennifer Aniston, Carol Burnett, Courteney Cox, and Melissa Etheridge.
Harry and Meghan married in May 2018. Some years later, in January 2020, they announced they will step down as 'senior royals' and work to become financially more independent, before moving to the US, where they now live with their children Archie and Lilibet. Harry released his memoir Spare on January 10, which has already sold more than 1.4 million copies in the United States, Canada and the United Kingdom. The book delves into several controversial topics, including the challenges of growing up as a royal member in the public eye, and the treatment of him and his wife, Meghan Markle.