Rakhi Sawant cries inconsolably after her mom dies of cancer in Mumbai hospital; Jackie Shroff, Aly Goni express shock
Jan 29, 2023 07:14 AM IST
Rakhi Sawant's mother Jaya Sawant died on Saturday after a long battle with brain tumour and cancer. The actor and reality TV star's mother had been hospitalised in Mumbai for many days and was reportedly in critical condition. The funeral with take place on Sunday, Rakhi said on Instagram.
On Saturday, Rakhi Sawant's mother Jaya Sawant died after treatment for brain tumour and cancer, Rakhi confirmed the news on Instagram. Jaya died at a hospital in Mumbai, where she had been undergoing treatment. In recent days, Rakhi had been posting her mother's pictures and videos from the hospital and sharing updates about her health. The reality TV personality and actor had also been urging fans to pray for her mother's speedy recovery in various paparazzi videos. The funeral with take place on Sunday, Rakhi said in a statement on Instagram. Many celebs such as Jackie Shroff, Maanayata Dutt, Aly Goni and Rashami Desai offered condolences to Rakhi and her family. Also read: Rakhi Sawant and Adil Khan Durrani refute rumours of her miscarriage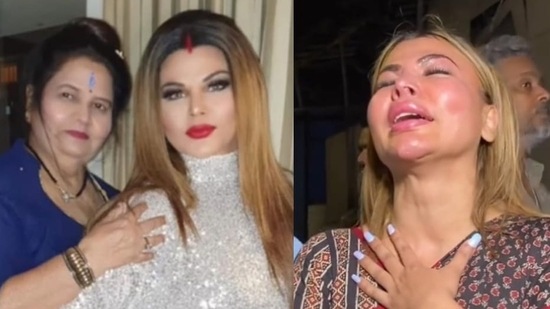 Videos of Rakhi Sawant and her family outside the hospital after Jaya's death were shared on paparazzi and fan pages. In one of the videos, Rakhi was seen crying inconsolably as her family members tried to console her. She kept saying in Hindi, "My mother has left me." Rakhi was also seen asking 'where is Adil (her husband Adil Khan Durrani)?' in one of the videos posted on Instagram. She also cried taking 'bhai (brother)' Salman Khan's name in a video. Rakhi stood near an ambulance and broke down as her mother's body was being taken away.
Early on Sunday, Rakhi shared a video of herself sitting on the floor inside a hospital room with her mother. She wrote in her caption, "Aaj meri maa ka haat sar se uth gaya or mere pass khone ke liye kuch nahi bacha. I love you MAA. Aap ke bina kuch nahi raha, ab kaun meri pukar sunega or kaun mujhe gale lagayega maa. Ab mai kya karu… kaha jauuuu... I miss you Aai (today my mother's hand was lifted from head. And I have nothing left to lose. I love you mother. Nothing is left without you, now who will listen to me and who will hug me. What should I do now, where should I go. I miss you, mother)."
Many celebs expressed their shock and offered condolences to Rakhi and her family. Actor Jackie Shroff commented on her Instagram Reels, "I feel your pain having lost my mom, dad, brother; their soul will always be with us." Actor Ridhima Pandit wrote on Rakhi's video, "Stay strong Rakhi, sending prayers and love… May her soul rest in peace." Actor Nisha Rawal commented, "My dear Rakhi my heart reaches out to you! I have seen aunty always dressed up beautifully with a smile, seeing her this way broke my heart! Shall be praying for her peaceful journey! May God give you strength." Actor Sanjay Dutt's wife Maanayata Dutt wrote, "May God give you the strength and courage to bear this great loss of family. Om shanti! May her soul rest in peace ."
Commenting on Rakhi's video shared on a paparazzo page on Instagram, actor Anita Hassanandani wrote, "Rip (rest in peace)." Actor Rashami Desai commented on the same post, "RIP, om shanti." Actor Roshni Walia wrote, "Most painful, may her soul rest in peace." Actors Sonal Chauhan, Prince Narula and Aly Goni dropped broken heart emojis in the comments section.
Taking to Instagram Stories, Rakhi also shared a screenshot of her picture with her late mother, and a Whatsapp message, which read, "With deep sorrow, I Rakhi Sawant inform you (of) the sudden death of my beloved mother. Many of you know that she was suffering from some medical conditions, well I am sad to say that she is gone. Tomorrow join us for the funeral service of my mother at 12 noon. Address: Municipal Christian Cemetery, Oshiwara, Andheri, West."
Recently, Rakhi Sawant had shared a video on Instagram, where she updated fans about her mother's health, and said her mom had been diagnosed with brain tumour and cancer. In the clip, Rakhi had asked fans to pray for her mother. Sharing the video, Rakhi wrote in her caption, "Mom is in hospital. She is not well, pray for her." Rakhi had said in the video, which also featured husband Adil and her brother Rakesh, "Hi everyone, I came out from Bigg Boss Marathi Season 4 last night as my mom is not well, she is in hospital. Please pray for her, she is not feeling her best."
Topics