Aranyak actor Danish Iqbal was in awe of Raveena Tandon, had to 'regroup' himself for a scene with Ashutosh Rana
Dec 17, 2021 04:49 PM IST
Aranyak actor Danish Iqbal talks about working on the Netflix India original while recuperating from Covid-19, in a new interview with Hindustan Times.
Actor Danish Iqbal had tested positive for coronavirus during the reading sessions for the Netflix film Aranyak. In a new interview with Hindustan Times, Danish has opened up on the struggles he went through while working on the new Netflix film.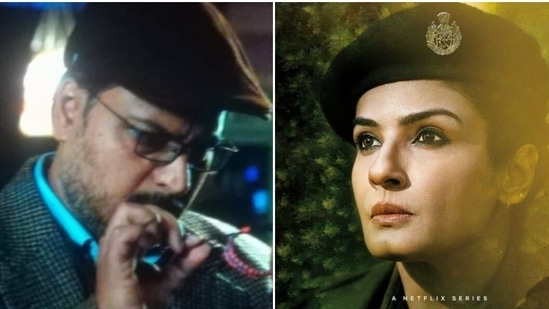 The actor also shared the experience of working with actors Raveena Tandon, Parambrata, and Ashutosh Rana, who feature in lead roles in the show. Aranyak released online last week. Danish essayed the role of the local cafe owner, Govind in Aranyak.
Danish said that he was not sure if he could ace the audition when he got a call from casting director Mukesh Chhabra. "It was the time when the pandemic just began. We were at home, sitting back with swollen faces, (we were) overweight and everything. As an actor, you feel you are not fit. (Therefore you wonder) how you might look onscreen. Those doubts are there in your mind. I was really out of practice, (I had not been practising) theatre, (neither was I) shooting. But you need to gear up and face auditions. I was not even sure whether I did justice to it, but I was fortunate enough to make it through the first round."
Revealing that he was suffering from coronavirus infection when reading sessions were held for the show, Danish added, "Then, I was down with Covid-19 and we had reading sessions on Zoom. Those used to be day-long reading sessions. I was scared thinking 'how I will read? I may not be in my form, and they may think I am not fit for the role'. So I locked myself in a room, took painkillers. I had lots of black coffee, just to keep myself awake and alert so I could listen to the directions of my director and respond to my co-actors while reading."
Talking about working with co-star Raveena Tandon, Danish said, "I was in awe of Raveena Tandon. I am a great fan of hers. When you start working, you take time to adjust to the fact that you are actually working with her. (Likewise with) Parambrata and Ashutosh Rana."
Also read: Raveena returns in the powerful role of a police officer for Aranyak
Danish added, "Ashutosh sir is my senior. I have a scene with him. While doing the scene, I was like….he is someone who will look at you and make you feel that he can go through you. I had to tell myself 'you need to do this, you are a certain character and so is he, you have to perform it'. I had to regroup myself and then get to work. Ashutosh Rana comes with such energy. I then tried to be friendly with him and he patted my back and said 'chalo scene karte hain, accha kar rahe ho Danish (Let us go for it, you doing well Danish)'. He made me comfortable and thankfully it went well. I am getting so much appreciation for the scene."