Poacher review: Richie Mehta crafts an atmospheric tale on illegal ivory trade
Jan 26, 2023 07:01 AM IST
Poacher review: Nimisha Sajayan, Roshan Mathew, Dibyendu Bhattacharya and Kani Kusruti star in this suspenseful and vividly atmospheric procedural investigation in the jungles of Kerala.
Richie Mehta's Poacher, that premiered its first three episodes in the Indie Program Section at the 2023 Sundance Film Festival, begins with a disclaimer reminding that India amended the Wildlife Protection Act, that prohibited all forms of wildlife hunting since 1991. Yet as Poacher jumps to 2015, and starts off in the jungles of Malayattoor, Kerala, with that haunting shot of an elephant shot dead in the first few seconds, it becomes clear what lies at hidden sight. (Also read: Fair Play review: Chloe Domont's erotic financial drama is an instant classic)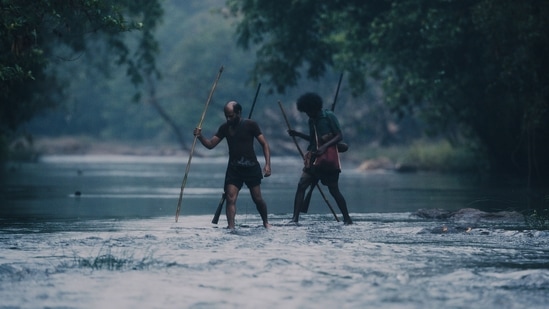 When a guilt stricken forest watcher admits that he was part of the murder of elephants to the Forest Officer, the confession unspools into an insidious web of undercover crimes that seem to be in full swing. We meet the unassuming Field Director of the Kerala Forest Department, Neel Banerjee (Dibyendu Bhattacharya) who understands that his present team of men will be of no use if he is to solve this mess as soon as possible. He calls Mala Jogi (Nimisha Sajayan) and immediately assigns her to the case. Why? Because she knows the villages like "the back of your hand- and the people in it." A quiet moment right before she enters the station is enough to establish this- Mala is keenly aware of the sights and sounds of the dense jungle and its inhabitants.
There's also the subdivision officer Dina (Kani Kusruti) when the action shifts to Trivandrum, who tracks down one of the culprits involved in ivory trade and much more, a criminal named Morris Finn. Yet, there are harder, more dangerous ways in which this whole operation is being planned out, right from a dealer in the capital and perhaps then moving on to international chains. Meanwhile Mala calls Alan Joesph (Roshan Mathew) for help, who helps her track the phone numbers that will lead to the local mastermind Raaz.
Following the International Emmy-winning series Delhi Crime, Richie Mehta relies on the format of investigative storytelling, and the ferocious reliance on sturdy exposition. Key details about the characters provide just enough material to enable the story forward. Three episodes in, Poacher has finally come close to finding Raaz, yet as the denouement suggests, far more secrets still remain. Poacher might not be as gut-wrenching a tale as Delhi Crime- the crime here is far more surreptitious and dense, but Mehta is interested in building an approach that agonizes on the same irony. The savage, ruthless treatment of these elephants for their teeth, and the conflicted stench of isolation that still breeds in the village cannot be understood by outsiders. Poacher captures the terror and beauty of Kerala's forests, with cinematographer Johan Huerlin Aidt's lens somehow relying on the dark undercover of shadows and vines, where wild foxes and tigers are a common sight.
Poacher builds its formidable world on the relatability of its cast. Nimisha Sajayan builds the steely resolve of Mala in the smallest moments of repressed rage, accounting for her own personal ground in-between. Dibyendu Bhattacharya excels as the officer who cannot afford to waste any time sorting for backup- for more reasons than one. Roshan Mathew and Kani Kusruti lend able, finely calibrated performances. These people are existing in a system where the perpetrators are also victims by and large, of an unjust template of corruption and inequality. Even though it decidedly arrives without the rush of a fast-paced thriller, Poacher proves to be a vividly detailed, richly atmospheric follow-up to Delhi Crime, that ultimately rewards its audience with a bracing sense of authenticity.