What is Tourette syndrome? Rani Mukerji plays a patient with rare disorder in Hichki
Dec 20, 2017 02:48 PM IST
Tourette Syndrome, the neurological condition Rani Mukerji's character has in her forthcoming film Hichki, cannot be cured but it can be controlled. Here's more about this rare disorder.
Chances are that you may not have heard of the Tourette Syndrome till you saw the just-released trailer of Rani Mukerji's forthcoming film Hichki. For those who still haven't seen it, here's a quick round up.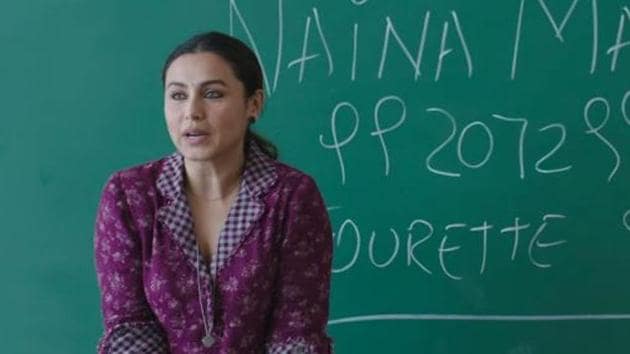 In the film, Rani Mukerji plays Naina Mathur – a woman with Tourette Syndrome who wants to be a teacher. She seems bright, enthusiastic and devoted, but there is just one problem. Her rare disorder comes with an involuntary vocal tic (she frequently makes a loud noise like two hiccups in a row), which would make her a soft target for ridicule especially in a class full of adolescents.
But surely that is not all there is to Tourette Syndrome, named after French physician and neurologist Gilles de la Tourette who did pioneering research on the disorder in 1885. Here's what we know.
Happens because…
Tourette Syndrome manifests in adolescence (before age 18) and is attributed to genetic and environmental factors.
"It is a neurobehavioural disorder that occurs because of dysfunction in the areas of the brain involved in movement and behaviour – basal ganglia, cerebral cortex and the thalamus," says Dr Anshu Rohatgi, senior consultant neurologist at Sir Ganga Ram Hospital in Delhi.
While the exact cause for Tourette Syndrome is not known, genetics plays a major role. "If someone has Tourette, there is a 50% chance that it may be passed onto to the children," says Dr Rohatgi.
How to identify…
There is no test for Tourette Syndrome. It can be identified only through a clinical diagnosis.
The syndrome is characterised by motor tics, which vary from person to person and may manifest as blinking, jerking head, arm or shoulder, clearing of throat, scrunching of face and vocal tics like shouting, grunting. In some cases, the vocal tics can occur as involuntary barking, swearing, or repeating your own words or things spoken by other people, which can be embarrassing.
"In addition to the motor and vocal tics, you see a lot of behavioural changes such as hyperactivity, obsession, depression, mood changes, aggression," says Dr Rohatgi. "Besides a neurologist, most patients also see a psychiatrist," he adds.
Appearance of motor and vocal tics are essential to identify a condition as Tourette Syndrome. If a person just suffers from compulsive motor tics (like shrugging shoulders or shaking leg) it could also be due to anxiety, which can be treated with behavioural therapy.
"Tourette Syndrome is quite rare," says Dr Rachna Sehgal, associate professor, paediatrics and paediatric neurologist at Safdarjung Hospital in Delhi. "In my 20 years of practice as a paediatrician and 8 years as a neurologist, I have seen two children with Tourette," she says.

WATCH: Children with Tourette Syndrome talk about it on The Oprah Winfrey Show
Treatable but not curable…
Tourette Syndrome cannot be cured, say doctors but it can be controlled. "The motor tics can be treated with medication," says Dr Rohatgi, "And there are anti-psychotic medicines to control the behavioural disorders, which are harder to control."
Patients with Tourette have the intelligence and work output of a regular person, says Dr Sehgal, but the stigma their condition invokes affects their day-to-day functioning. "People around them don't understand they can't control the tics. Not just the patients, but even their parents become stigmatised," she says.
"People with Tourette become objects of ridicule in social situations," says Dr Rohatgi. "People don't like to interact with them and tend to avoid them."
Given the stigma and ridicule this difficult condition invites, Naina Mathur's dream of becoming a teacher may seem like a tall order. It remains to be seen whether the disorder gets a realistic treatment in the film. Let's wait and watch.
Follow @htlifeandstyle for more