FIFA World Cup 2018: Favela fans celebrate Gabriel Jesus in Brazil hometown
Agence France-Presse, Sao Paulo |
Agence France-Presse
Jun 23, 2018 11:20 AM IST
Gabriel Jesus, who is one of the younger members of the Brazil football team in the FIFA World Cup, enjoys a huge following on the streets of his favela in Sao Paulo.
Just four years ago, the closest Gabriel Jesus got to the FIFA World Cup was painting the streets of his favela in Sao Paulo green and yellow. On Friday, his old neighbours turned out en masse to watch him star in Russia.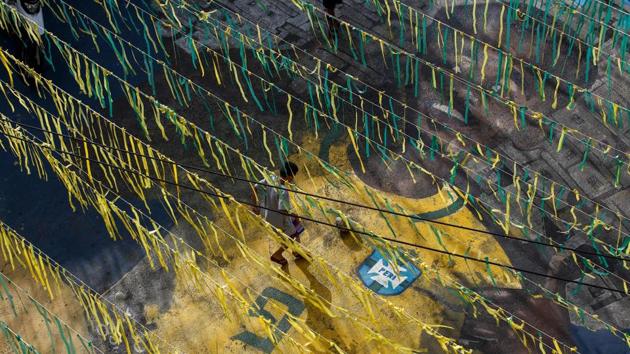 Dressed in the national shirt, draped in Brazilian flags and wearing Gabriel Jesus masks, the residents of the tough Jardim Peri favela crammed into Bar da Gisele for the game against Costa Rica in Saint Petersburg.
Stay tuned with breaking news on HT Channel on Facebook.
Join Now
Even if all the talk was about Neymar, his old friends and neighbours were fixated on the 21-year-old number nine.
"Go Jesus, go Jesus!" the bar owner, Gisele Xavier, said, just a few doors away from where the young star grew up.
READ | Neymar hits back at FIFA World Cup 2018 critics after scoring against Costa Rica
"It must so hard for him to hold his tears back," she added, watching Jesus waiting in the tunnel before the game, which would turn out to be an unexpectedly tough test before Costa Rica's defence finally crumbled and Brazil got the 2-0 result.
Xavier was wearing the favela's favourite shirt, depicting the player's face. Hers, though, had been autographed.
In her bar she also displayed two shirts from Palmeiras football club, where Jesus got his start, even if she is a passionate supporter of the rival Corinthians.
"He gave them to me," she said.
What Jesus also gave was a lot of pride and hope in the favela, as the poor, unregulated neighbourhoods sprawling across Brazil's big cities are called.
"Imagine getting out of the neighbourhood and becoming number nine on the Selecao. For us it's a huge joy," said former neighbor Ze Moa, 37, who also wore an autographed shirt.
READ | Blame the Argentina midfield not Lionel Messi, writes Bhaichung Bhutia
The crowd went wild in the 25th minute when Jesus appeared to have scored, only for the goal to be disallowed for offside.
"I never could have imagined this happening," said Ellon Ferreira, a friend of Jesus. "He makes us so happy. Who would ever have believed he'd get as far?"
At the final whistle, Jardim Peri erupted in fireworks. Even if he hadn't scored and even if he was thousands of miles away, Gabriel Jesus was the life of the party.
As the celebrations grew, a Brazilian funk song belted out its homespun anthem to the local hero:
"Four year ago he played football on the school pitch... Today's he's here..., Neymar passed the ball so that the boy can fly.... He passes it to the number nine, who knows that's it a goal."