Switzerland set for FIFA World Cup 'friendly' with Costa Rica
Nizhny Novgorod |
Reuters
Jun 26, 2018 04:32 PM IST
Switzerland, who defeated Serbia 2-1 in their previous game, need at least a draw against Costa Rica to enter the pre-quarterfinals of FIFA World Cup 2018.
After winning a politically-charged match against Serbia, Switzerland are unlikely to face the same hostility when they face already-eliminated Costa Rica in Group E of the FIFA World Cup on Wednesday.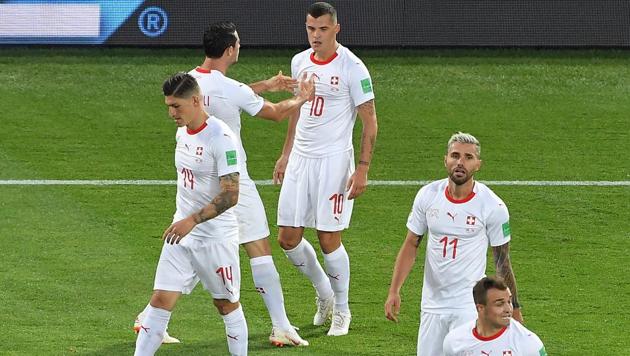 Switzerland, needing a draw to reach the last 16 of the tournament, have a number of ethnic Albanians in their squad and they were given a hostile reception by Serbian fans in Friday's dramatic 2-1 win in Kaliningrad.
Stay tuned with breaking news on HT Channel on Facebook.
Join Now
Clearly fired up, goalscorers Granit Xhaka and Xherdan Shaqiri both celebrated with a gesture which appeared to imitate the eagle displayed on Albania's flag. Both players could be suspended by world governing body FIFA before Wednesday's match.
ALSO READ: FIFA World Cup 2018: Germany face South Korean test for Round of 16 berth
Serbia refuses to recognise the independence of its former province Kosovo, whose 1.8 million people are mostly ethnic Albanians. Kosovo broke away from Serbia 10 years ago.
There should not be any similar problems against the Central Americans on Wednesday. Although they are more than 9,000km apart and speak different languages and have different cultures, the two small, rugged nations are considered similar in many ways, with Costa Rica often labelled as the Switzerland of Central America.
Both are renowned for political stability, neutrality and tranquillity as well as for natural beauty. The two also enjoy close diplomatic ties.
ALSO READ: Mexico keen to keep winning run going against Sweden
Along with Jordan, Singapore and Liechtenstein, they are part of a group at the United Nations known as the 'Small Five' which, according to the Swiss foreign ministry, advocate "shared values and ideas" including an initiative to reform the UN Security Council and its working methods.
Before Switzerland joined the UN in 2002, it developed several initiatives with Costa Rica aimed at enhancing international law, including the Optional Protocol to the UN Convention against Torture (Opcat) which aims to prevent mistreatment of people in detention.
Both enjoy high life expectancy, with Switzerland second in the world at 83.4 years, according to World Health Organisation figures, and Costa Rica third in the Americas with 79.6, above the United States.
ALSO READ: FIFA World Cup 2018: Iran coach blasts VAR as Cristiano Ronaldo escapes sending off
In football terms, there are also similarities, with both countries tending to punch above their weight.
Switzerland and Costa Rica are making their fifth World Cup appearances since 1990, and both got beyond the group stage in 2014.
Both have small domestic competitions with 10 teams in Switzerland's Super League and 12 in Costa Rica's Primera Division, and both are exporters of players.
Costa Rica have seven home-based players in their 23-man squad while Switzerland have one - FC Basel's Michael Lang.
If anything, there is a risk that Switzerland could be too relaxed for the match although that suggestion was dismissed by midfielder Gelson Fernandes.
"We know how much quality they have - they will play with their hearts, it is their last game, they are proud to be in the World Cup," he said.
"They are proud to represent their country and their first two games were very close, so we mustn't start thinking it is going to be an easy game."