A call to artists and all epic depictors
Apr 02, 2017 10:53 AM IST
Does the way we depict demons in mythology contribute to the frequent lack of respect for people who are racially different from 'us'
Dear artists who depict mythology and dear parents and teachers who buy epic tales for the young and young-at-heart, I'm sure you know that when our fables are questioned in this column it is with love and belonging as an insider and not as a hostile outsider. I'm certain you share the distress and shame that we feel deeply about our society's health - the frequent lack of respect for people who are racially different from 'us'.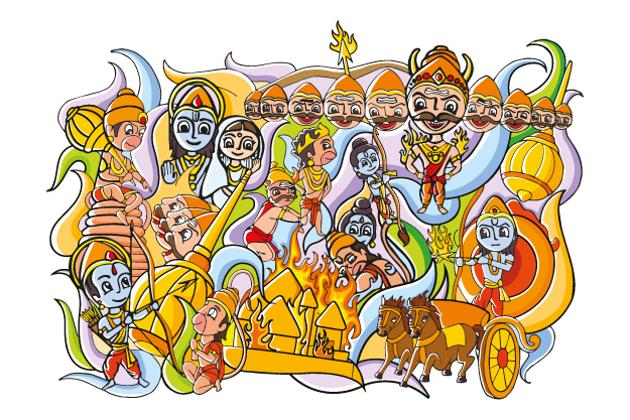 Does it come from the way we depict demons in mythology? Wouldn't you agree that this influences people without their being even aware of it? Years ago, I made a choice to describe asuras as 'titans' and rakshasas as 'demons' because 'titan' is better suited to 'asura'. And recently, in the story 'Hell's Bells' in my new book, "Hindu Fables', Chatura, the heroine of the story, describes a demon as "lean and pale, and extremely tall, with straw-coloured hair" (Mr Tharoor may approve).
Stay tuned with breaking news on HT Channel on Facebook.
Join Now
Read: Sermons in stones, and good in everything
I chuckled when I found Chatura saying so, for my sub-conscious had written it. It was not meant to malign gora friends but certainly it came from rejecting the 'demon stereotype' in our 'mainstream' visual culture. So I know that a shuffle of cards is doable. You could do that so creatively in your own, unique way, if you accept that you are mentally and culturally free to change your depiction of demons. By doing so, you would not only extend the boundaries of your personal artistic freedom but also, you would significantly contribute to making a nicer, kinder society. It's like embedding a microchip in the head. Stereotypes come, after all, from a set pattern of expression. Such demonizing is 'ayogya' or 'unworthy' on our part and it would be a positive artistic and cultural choice to change it.
As to which, there is another deep pattern of thought that is never openly stated. Unlike the public matter of the demonic stereotype, this is one of Hindu society's private feelings, a truth from the heart. It is what a number of regular, devout, live-and-let-live Hindus seem to feel but cannot freely express today without angering some in their own community.
Such people simply don't want to go to Ayodhya. Whereas, beyond the holy places of the Dakshin and Maharashtra, they absolutely pine to see Kashi, Mathura-Vrindavan, Rishikesh, Haridwar, Ujjain, Kamakhya, Dakshineswar Kali in Kolkata, particularly for Sri Ramakrishna; and Dwaraka, Puri, Bhubhaneswar, the Char Dham (Gangotri-Yamunotri, Badri-Kedar), Shankaracharya Hill in Srinagar, the Devis of Himachal, especially Chamunda, Pasupati in Kathmandu - and just about every other place mapped in sacred geography. If it's a holy place, they instinctively like to see it.
Read: A rule for you and a rule for me
But they emotionally spurn Ayodhya as a mean place that was cruelly unjust to Sita. It doesn't come up in pravachan because nobody wants to unreasonably go on blaming the people of Ayodhya today for things that happened in the past. But Ayodhya as a place of pilgrimage is 'ayogya' on several Hindu maps because of this sorrowful association from very old days. A curious but emotionally profound artistic and cultural choice, wouldn't you say?
shebaba09@gmail.com
Views expressed are personal