The Art and Science of Fitness | Discovering the benefits of stationary bikes
Jan 16, 2023 01:16 PM IST
Recumbent bikes isolate the lower body from the upper body, making it an excellent piece of equipment to activate one's muscles and help us get fitter. This is a lesson I've just learnt
When I was a child, I biked a lot. But I never considered cycling a true sport. I found it too easy. And as the running purist in me grew, my bias against bikes — including stationary ones — did as well.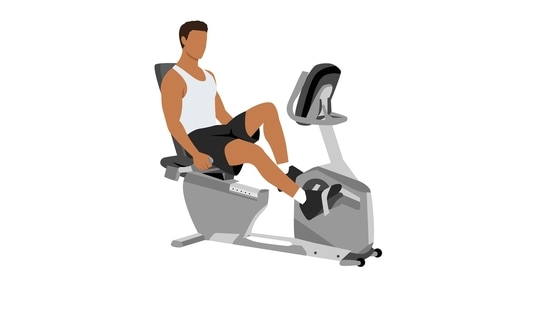 Two decades ago, Dr Ananth Joshi, a pioneer sports medicine doctor in the country, suggested that, for the longevity of my knees, I should switch from running to cycling. And while I agreed that I would out of respect, I never got around to it because of my subconscious bias. Cycling was not for me, and stationary bikes, even less so. For an old-timer exercise dinosaur like me, stationary bikes were considered blasphemy! Even when asked about which bikes my patients should get, I always winced. And when the sale of stationary bikes skyrocketed during the pandemic, I stuck to a good old-fashioned floor workout and I ran up and down the stairs.
And then the day arrived, brought to us by Delhi's extremely poor air quality and a lack of political will to clean it (on the day of writing, the Air Quality Index was 398). My father, an avid walker for over half a century wanted to buy a treadmill, cross-trainer or stationary bike. We were forced to look for indoor options to keep ourselves fit in a gas-chamber-like city. My dad didn't like the treadmill and cross-trainer options, and so he left it to me to find him a good bike — of which I knew nothing about. And so I tried the spinning bike, followed by an upright bike, which I ruled out. And then, reluctantly, I tried the recumbent bike. And it was love at first ride.
As a sports-exercise medicine doctor who also specialises in back and knee pain — and is always enthusiastic to get people to run and do justice to their running potential — the recumbent bike was god-sent. Before I tried it, I often suggested stationary bikes to patients without any conviction. All that changed. The benefits of an indoor cardiovascular exercise machine aside, I need to take you on this journey to understand the recumbent bike and why I liked it.
Most of us spend 8 to 12 hours sitting down — that's one-third to half of our lives. And often, not in the best posture. We might start upright, but soon enough we start to slouch. This leads to a constricted rib cage with not enough room for the lungs to expand. Our spines become stiff, and aren't as agile or strong as they used to be. Now, the muscles that we sit on are called glutes, which become weak over time when we are sedentary because their main purpose is to help us stand upright, walk and run. They work in tandem with the hips, knees and ankles, so that the movement of say, running or walking, is synchronised. However, this is forgotten in today's age. When we realise that we need to get into better shape, we forget that we need to reactivate these muscles, work on our basic foundation, to keep injuries at bay and live sustainably. Instead, forgetting the groundwork, we begin our journey with stiff hips and ankles, forcing the knees to do all the work and then we wonder how most of us have awful knees by our mid-30s or 40s.
Unfortunately, many don't get the basics right. Folks tend to bring their bad habits from poor sitting posture to their exercising as well. Further, because we wear socks and shoes for long hours, our feet have lost touch with the earth. Even though our feet have 56 bones — more than a quarter of the bones in our bodies — we see and use them as one single unit. This makes our feet lose two crucial functions, that of being the rigid weight-bearing structure and the flexible structure to conform to uneven terrain. When people attempt to run, their feet buckle because of gross muscle imbalances, followed by knees caving in. This leads to all kinds of injuries — from the heel and shin to the knees, hips, and back.
This is where the recumbent bike steps in to play a crucial role. Once we shuffle back into the seat, resting our backs comfortably on the seat, the feet are placed on the pedals. Now, the only point to focus on is that the knees shouldn't be rolling in or out while we pedal. Once we start riding, our hips, knees and ankles work in sync, without putting any pressure on the knees and back — the two most common aches and pains people suffer from.
Much like a leg press machine, a recumbent bike engages the glutes (the muscles in your buttocks), hamstrings, quadriceps and calves muscles together as a team. It also gets the hips, knees and ankles to move together too. All this while not putting pressure on the upper body. Once we get the hang of it, we can focus better on our legs and relax the upper body. This isolation of the body parts helps to train them better, and together, they do an even better job.
No matter which one is our dominant leg, unlike running, we apply equal pressure on both feet. This teaches us to move a lot better. By only getting the lower body to work, we can focus on proper, precise movement.
The beauty is that a recumbent bike has a role to play for every individual, no matter how unfit or fit you are. We just need to keep in mind not to do too much right away, spend time on the seat, and then gradually increase the speed. It is strongly recommended even for people with back and knee pain, and even for those who want to perform better at running half or full marathons. You can customise your workout and choose to do long slow sessions, tempo paced or at different speed intervals too.
However, one suggestion to you, dear readers: When on the bike, try not to listen to glaring news channels — which nowadays seem more like soap operas. The whole idea of exercising and rediscovering the joys of a fit and healthy life is to spend time connecting with yourself, one pedal at a time.
Keep miling and smiling.
Dr Rajat Chauhan is the author of The Pain Handbook: A non-surgical way to managing back, neck and knee pain; MoveMint Medicine: Your Journey to Peak Health and La Ultra: cOuch to 5, 11 & 22 kms in 100 days
He writes a weekly column, exclusively for HT Premium readers, that breaks down the science of movement and exercise.
The views expressed are personal
Continue reading with HT Premium Subscription
Daily E Paper I Premium Articles I Brunch E Magazine I Daily Infographics