Demystifying the challenges of low-income housing delivery: The case Of Delhi
Jan 04, 2023 02:09 PM IST
The article has been authored by Ismail Haque, Malay Kotal and Meera M L.
Increased urbanisation poses serious challenges for adequate housing in the cities of Global South According to the latest UN estimate, India is expected to become the world's most populous country by 2023, putting additional strain on existing resources and posing serious challenges to achieving the Sustainable Development Goals (SDGs). Amidst such burgeoning population growth coupled with messy and hidden urbanisation in India, the provision of adequate, affordable, and decent housing for its low-income citizens has become a pressing urban issue. While the government has implemented a range of housing policies and programmes during successive plan periods, particularly for low-income urban households, the success rate of these initiatives has been minuscule as compared to the total housing needs of the urban population. Concerted efforts by state and private players have not kept pace with the rising unmet need for housing, particularly housing that is affordable and accessible to the urban poor.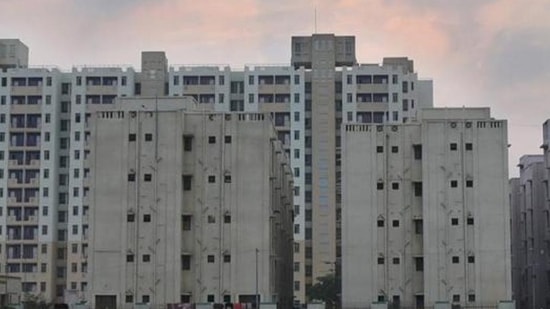 Consequently, a high share of urban poor households lives in acute housing poverty. As per the government's estimate, during 2012-17, there was a housing deficit of almost 19 million units across Indian cities and more than 95% is accounted for by housing for the low-income groups (LIG) and economically weaker sections (EWS). A recent estimate based on the 76th round of the National Sample Survey (NSS) results, however, suggests that this figure may have increased to 29 million units, requiring urgent housing intervention.
The most critical manifestations of state policy and housing market failures are unplanned and haphazard growth of informal settlements characterised by substandard, notoriously congested and socially unacceptable housing conditions with meagre access to essential civic services and amenities across the large Indian cities including Delhi. At present, about 30 per cent of Delhi's population live in substandard housing (across 757 bastis/JJ clusters, 1797 unauthorised colonies (UCs) and old dilapidated settlements including 362 villages) lacking adequate housing and minimum level of basic services. An additional 24 lakh new housing units need to be built to address the existing housing backlog in Delhi. Given these conspicuous and massive housing problems, the government of NCT of Delhi has undertaken multipronged housing reforms and urban development measures including land development and construction of new houses; in-situ slum redevelopment/slum relocation (rehabilitation) under public-private partnership; and, to some extent, the regularisation of UCs.
While the production of new housing units has been at the heart of these 'state-enabled but market-driven' housing strategies, the intricacies of timely delivery of housing stock to intended beneficiaries remain largely unaddressed. Most importantly, the majority of these new stocks are developed in the outskirts of the city and relocation of basti dwellers in the periphery adversely impacts their economic, social and employment networks and livelihoods, which, in turn, aggravates the problem of vacant public ownership housing stock. For instance, in 2018, around 1.68 lakh low-cost dwelling units remained unallotted, consisting mostly of inventories created under erstwhile schemes including JnNURM, and RAY, across urban India. Delhi is an outstanding example of a persistent housing paradox with millions of basti dwellers striving for a better home and the simultaneous existence of a large number of unallotted public housing stock (i.e., around 36623 units). The housing crisis thus remains a persistent problem even today in Delhi with a population of nearly 20 lakh (28%) living in 757 JJ clusters.
The report can be accessed by clicking here
The article has been authored by Ismail Haque, Malay Kotal and Meera M L.