Strengthening socio-economic rights of women in the informal economy
Aug 05, 2021 06:40 AM IST
The study has been authored by Ayushi Gupta and Kanika Jha Kingra.
The dominant narrative surrounding informal workers has not changed much over several decades - they remain marginalised, lack basic social protection and continue to live precariously. Globally, 6 out of 10 workers are in the informal economy. Among developing and emerging economies, India's informal sector is among the largest. It is estimated that informal workers make up nearly 90% of India's labour force, and among women who work, more than 90% work in the informal economy. They earn less than men on average, have inadequate access to markets, formal sources of credit, and have limited bargaining power to improve their working conditions and earnings. In India, these women belong primarily to socially disadvantaged castes and communities, which exacerbates inequities and pushes them towards a high risk of poverty.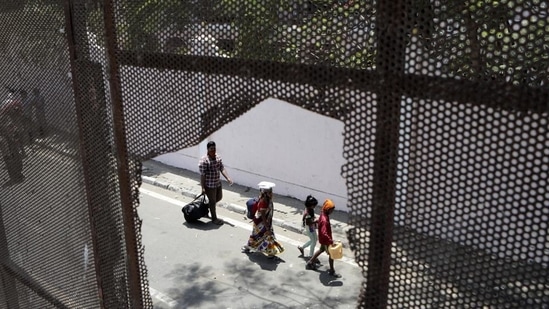 The Covid-19 pandemic and successive lockdowns particularly worsened the working conditions for women in the informal economy, resulting in loss of jobs, food insecurity, and reverse migration from cities to rural areas, more often than not along with their families. With no support for childcare, and limited social protection, women who worked in the informal economy bore a disproportionate burden of the pandemic.
While the Union and state governments in India have started several initiatives to address the vulnerability of those in the informal economy, such as the Unorganised Workers Social Security Act, Contract Labour (Abolition and Regulation) Act, and Workers' Welfare Boards, very often informal workers are unaware or do not avail of these benefits due to information asymmetries and lack of proper documentation.
Evidence from India and other contexts shows that the working poor in the informal economy, particularly women, need to organise themselves to overcome the structural disadvantages they face. In this regard, the Self-Employed Women's Association (SEWA) has a long-standing history in India of promoting collectivisation efforts of informal workers by organising them into trade unions that can act as platforms for advocating their rights and entitlements. It is through these unionising efforts that members are able to exercise their collective bargaining powers and claim their rights from the government and their employers.
In 2020, SEWA approached the Initiative of What Works to Advance Women and Girls in the Economy (IWWAGE) at LEAD to conduct an evaluation of its long running programme of working with women in the informal economy in West Bengal and Jharkhand. The programme aims to improve women's access to, and understanding of, basic services such as health, sanitation, and other community infrastructure, as well as their ability to demand local accountability.
Since the timing of the study overlapped with the Covid-19 related lockdowns, the objective was also to understand the impact of the economic lockdown on informal women workers. Subsequently, IWWAGE conducted phone interviews in July-August 2020 with over 1,500 members, women grassroots mobilisers and adolescent girls in the two states to unpack the impact of SEWA's collectivisation approach on the livelihoods of these women (who were mostly engaged in the beedi rolling, construction and agriculture sectors), their wellbeing, agency, financial and health-related outcomes and also the socio-economic impacts of Covid-19. In addition to the phone survey, the study also comprised key informant interviews with local government officials, political representatives, frontline health workers and beedi company representatives.
Collectivisation improves knowledge of worker rights
The study shows that women who attended SEWA's group meetings more often, regardless of how long they have been members, also tend to attend other trainings offered by SEWA more often, as well as report better outcomes on most counts such as health and financial inclusion. Most SEWA members who attended the SEWA unit meetings more regularly are far more aware of their labour rights, entitlements and benefits they should receive from their trade. A majority of the respondents find the SEWA trade group meetings useful for their everyday lives and work related issues. Notably, a majority of those who attended meetings more frequently are more confident talking to their employer, contractor or middlemen (mahajans or traders) regarding wages, work hours and working conditions. Almost the entire sample of SEWA members have their own bank account. of those who own a bank account, a small proportion are Jan Dhan accounts. Self-Help Groups, saving groups, a bank or a financial institution are among the most common means of availing of loans. In general, women who attend trainings are more likely to be comfortable in opening bank accounts, in applying for loans and calculating the interest on their loans. These differences are positive and significant.
Impact of Covid-19 on women's livelihoods
In terms of Covid-19 and lockdown related impacts, close to a majority of respondents reported a loss in income, particularly those engaged in agriculture and construction work.
In terms of assistance required in the next six months, a majority of women indicated that they will require help to find a new job, and several also indicated the need for assistance to avail of government benefits. For women agricultural workers, the study found that 57% of them were unable to visit their fields due to the strict lockdown measures that were enforced, thus disrupting the supply chains. Fifty per cent of agricultural workers also reported that their access to local markets and agricultural inputs was significantly hindered.
In addition to the direct loss of income and impact on mobility, the study assessed SEWA members' access to and awareness about relief schemes and public provisions. It was found that although 88% of the sample had received Covid-19-related health advisory, only 64% were aware of the schemes the government was offering as a part of Covid-19 relief packages.
While only 14% of the sample reported facing problems while accessing their local ration shops. A higher proportion of 31% on the other hand, indicated that they had difficulty in availing local health services. The issue of access to ration shops and relief measures was more acute in Jharkhand which had a higher proportion of migrant workers. Here, many people had not received relief measures, while several were unaware of the entitlements that they were eligible for. In Lalgola, a district of West Bengal, food insecurity was also cited as a challenge despite efforts of local leaders and SEWA to provide ration to families.
Aagewans, who are being nurtured by SEWA to be grassroots leaders and local advocates for women's socio-economic rights, are most often contacted by SEWA members to help them register for schemes or benefits, as well as negotiate wages and other concerns with employers. Several aagewans also help members to participate in skills training.
A majority of aagewans said they believe that their role as an aagewan has changed the community's outlook about them in a positive way. Aagewans are also seen to be particularly proactive in COVID-19 relief measures.
The study offers recommendations on several dimensions where SEWA has already made significant progress and achieved success, and also on potential areas that can be strengthened.
The study can be accessed by clicking here
(The study has been authored by Ayushi Gupta and Kanika Jha Kingra)