Transforming the lives of rural women through the DAY-National Rural Livelihoods
Aug 25, 2021 03:56 PM IST
The study has been authored by Seema Bhaskaran and others.
The DAY-National Rural Livelihoods Mission (NRLM) is a programme with the strategy to advance the goals of women's empowerment through work with Self- Help-Groups (SHGs) and their federations for empowerment and livelihood outcomes. Over the years, NRLM has successfully federated over 6.5 million SHGs across 34 states and Union Territories in India, and while there is a quantitative mapping of the numbers being federated, it is also important to qualitatively capture the transformation in women's lives, particularly through various governance mechanisms and institutions put in place to advance their rights, entitlements and agency. Federations are an important social institution for women and are accessible to them at the local level. Evidence shows that organized collectives build women's solidarity, agency, and empowerment. NRLM's own ambition is to create 600 Model Cluster Level Federations (MCLFs) to serve as institutional bases for multi-sectoral outcomes for poor women –social, economic, financial and political. This offers the opportunity to assess and scale institutional mechanisms and forms for gender equality and women's empowerment at the grassroots.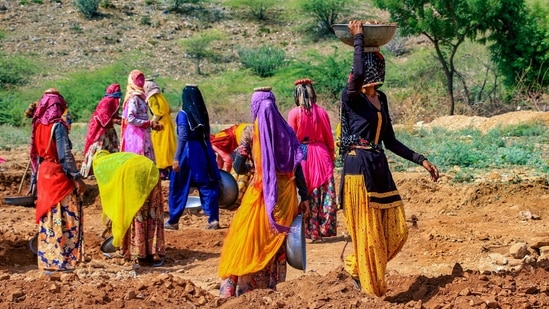 NRLM has initiated focused gender interventions. It strongly believes that gender mainstreaming should feature in its framework, systems, institutions and processes to achieve sustainable social, economic and political development. The Mission has given priority to building institutions which support women to build their capacities, access their rights and entitlements, their identity, voice their problems and opinions, enhance choices, and create solidarity. Apart from mobilising marginalised women, they have also undertaken efforts to reach highly vulnerable women through innovative programmes.
As part of the Azadi ka Amrut Mahotsav launched by the Prime Minister of India, the Ministry of Rural Development's Deendayal Antyodaya Yojana-National Rural Livelihoods Mission (DAY-NRLM) and the Initiative for What Works to Advance Women and Girls in the Economy (IWWAGE) at LEAD, jointly launched Gender Samvaad on April 16, 2021. A compendium of case studies, developed by DAY-NRLM and IWWAGE, documenting good practices and stories of resilience and change among SHG women shared by various State Rural Livelihoods Missions, was also launched at the event by the secretary of rural development.
About Gender Samvaad
Gender Samvaad, is a unique, joint attempt between DAY-NRLM and IWWAGE to establish a shared platform to generate awareness on NRLM's gender interventions across the country, with a focus on hearing voices from the states and of SHG members. Gender Samvaad, a bi-monthly webinar, will provide states with opportunities to exchange knowledge on how to improve women's agency, share international experiences of successful gender interventions, unpack implementation
barriers in gender mainstreaming, as well as create a 'gender knowledge repository' with resources to design and implement gender interventions across the country.
Capturing the impact of SHG networks on women's lives
These cases particularly focus on the most marginalised and vulnerable women who have been supported to come out from dire poverty, and in many cases exploitative situations. Specifically, Andhra Pradesh, Kerala and Maharashtra's exemplary work on Anti-Human Trafficking (AHT), Jharkhand's brilliant work on Anti Witch Hunting, and the great work done in the realm of gender integration in Assam, Chhattisgarh, Rajasthan and Nagaland demonstrate how SHG network can bring the transformational change in the lives of women and the society.
This compendium makes visible the life and experiences of women; their gendered disadvantage, struggles and barriers. For example, the case study from Andhra Pradesh shows how Ms. Rajamma personifies perseverance and strength; she shares her story of coming out of prostitution with the help of the SHG network in Andhra Pradesh. Ms Ambika Thapa in Assam, runs a Children's Home, Mission Concern and being an SHG member has enabled her to put resources and income earned through different enterprises initiated by her toward helping orphaned and abandoned children. Ms Rita Chetry's story is one of exemplary determination to tide over her personal struggles and carve out a meaningful life. Not only does she own a stationary shop in Assam and manages the business, but also works tirelessly as a community resource person (CRP).
Ms Lalita in Chhattisgarh has overcome repressive gender norms, to shift gender perspectives within her family, and today works as a gender CRP and runs the family business in her name. Ms Sumitra, branded as a witch, is fighting all odds to stand up against the alleged accusations from her community. She hopes that the Garima Project of Jharkhand State Livelihoods Promotion Society will allow her to hold those that have wronged her accountable.
Ms Shabana, in Kerala, has left an abusive relationship to reinvent her life as the owner of a foodstall. Ms Shanti, also from Kerala shares how the SHG movement in the state has supported her through her HIV+ diagnosis, and helped her to start her own stitching business.
Ms Shakuntala Devi, in Rajasthan overcame many barriers to be elected as a ward panch. She attributes a large part of her success to the confidence she has gained from being an SHG member. Ms Urmila, from Maharashtra broke traditional cycles of exploitation, to form her own SHG and escape the life of a bonded labourer. Finally, Ms Moazungla in Nagaland shares her story of successfully rehabilitating her husband, starting income generating activities with the help of her SHG and fulfilling her dream of becoming a CRP.
The life stories in this compendium bring visibility to the varied realities that women in India live with on a daily basis. The women who have shared their experiences in this compendium have done so with the hope that those reading will understand their struggles and challenges which they had to overcome to live a life of dignity. From abject poverty, addiction, prostitution and bonded labour to the experience of gender unequal norms and barriers have held these women back at every step but they have not allowed their circumstances to define them. With the support of the State Rural Livelihood Missions and the Deen Dayal Antyodaya Yojana – National Rural Livelihoods Mission, and their own determination, perseverance and resilience they have shown that it is possible to rise above and carve out a new life.
The study can be accessed by clicking here
(The study has been authored by Seema Bhaskaran and others)