How is India using its solar pumps for irrigation?
Council on Energy, Environment and Water
Oct 11, 2021 01:39 PM IST
The study has been authored by Anas Rahman and Abhishek Jain
The government of India has been aggressively promoting solar pumps for irrigation in recent years. On the back of significant government subsidies, about 300,000 off-grid solar pumps have been deployed in the country so far. While the technology is green, it is important to understand its on-ground usage after deployment. A few earlier studies have relied on primary surveys of farmers in different parts of the country, to assess pump utilisation. However, since most of these solar pumps have a Remote Monitoring System (RMS), one can use the RMS data to assess their utilisation. In this brief, we analyse the RMS data from the Saur Sujala Yojana (SSY), a solar pump promotion scheme by Chhattisgarh—the leading state in the deployment of solar pumps.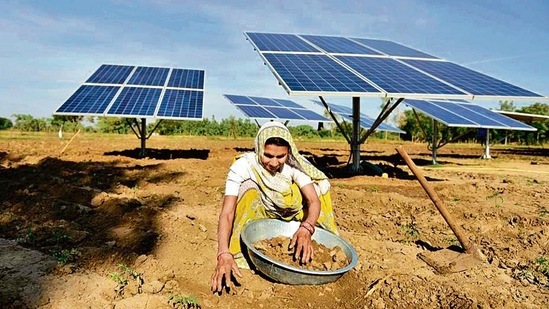 Data from the RMS of solar pumps can provide valuable insights to improve public schemes on solar pumps. For this brief, we analyse data from 1,131 solar pumps in Chhattisgarh, India's leading state in the deployment of solar pumps. We find that a majority of pumps are underutilised in terms of the hours of usage, and that their utilisation rates are reducing over the years, raising concerns about the poor social returns against the public investment made on these pumps. We estimate that, on average, more than 70% of the solar power generation potential of off-grid solar pumps remains unutilised. We recommend the following to state governments: carry out a survey to identify the reasons for the suboptimal utilisation of the deployed solar pumps and improve the utilisation of publicly-supported solar pumps by
i) reducing subsidy on larger pumps and promoting smaller-sized pumps, ii) encouraging pump sharing and community-owned deployments, and iii) promoting non-irrigation use of the available solar energy to power complementary livelihood activities such as post-harvest processing during non-irrigation seasons.
The study has been accessed by clicking here.
(The study has been authored by Anas Rahman and Abhishek Jain.)
"Exciting news! Hindustan Times is now on WhatsApp Channels
Subscribe today by clicking the link and stay updated with the latest news!"
Click here!