Need to create new institutions to meet new global challenges
Dec 13, 2021 09:52 PM IST
The piece is authored by Sam Pitroda, former advisor to the Prime Minister of India, innovator, policymaker & entrepreneur. He is the author of the book Redesign the World – A Global Call to Action.
United States President Joe Biden addressed more than 100 world leaders on Dec 9 2021 at the "Summit for Democracy" along with business and civil society. The objective was to focus on renewing democracy in the US and around the world.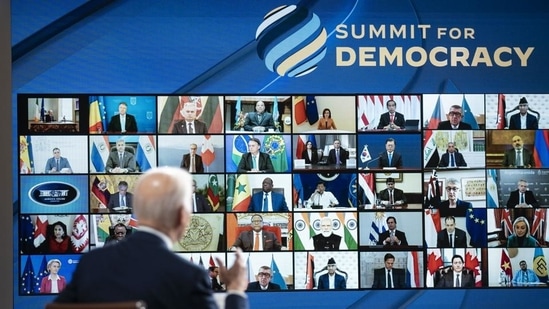 This is a great initiative and President Biden must be complimented for his leadership. The key is to see what really comes out of it. The world over, democracies are undermined by authoritarian leaders who weaken institutions, divide people, manipulate media, lie, mistrust many, fudge developmental data and give false promises.
It is time to ask them to focus immediately on delivering functioning democracy with independent, free, fair and fearless judiciary, military, administration, legislation, media and civil society. It is also time to ask to promote scientific mindset, cooperation, collaboration, communication and co-creation.
The world was last designed during World War II with five main pillars: Democracy, human rights, capitalism, consumption and the military. This design gave birth to the United Nations (UN), World Bank (WB), International Monetary Fund (IMF), the North Atlantic Treaty Organization (NATO), the World Trade Organization (WTO), the World Health Organization (WHO), Gross Domestic Product (GDP)and Gross National Product (GNP).
All countries follow a rule-based system to run their affairs. This design has served us well for a long time in preserving peace, expediting growth and development, increasing longevity, decreasing infant mortality and lifting many from the clutches of poverty.
However, our planet is now in pain because of past environmental blunders and a future that looksbleak because of global warming. Similarly, people are in pain because the fruits of democracy, freedom, justice, capitalism and technology have not reached billions at the bottom. We now need focus on sustainability and inclusion.
This is the time to remind all participants that the democracy in the future will demand commitment to:
1) Inclusion: To strengthen and expand democracy to take us towards an inclusive world with equality and opportunities and dignity, respect and justice for all.
2) Human needs: To enforce fundamental human rights while ensuring the availability of basic human needs related to food, clothing, shelter, health and education.
3) New economy: To course-correct greedy capitalism and move towards a new economy, focusingon the environment and human capital; to redistribute wealth more equitably while developing small businesses, local capabilities and globalisation.
4) Conservation and sustainability: To move from mindless consumption to sensible conservation and sustainability, making products that are more durable and doing away with the one-time- use philosophy; to promote affordable, scalable and sustainable products and services.
5) Non-violence: To promote and practise non-violence at all levels and abjure violence entirely; tostart the process of defunding the police and the military and using them more for peaceful purposes and providing security.
Those who participated in the summit will benefit if they begin a conversation of the following points:
1) Hyperconnectivity is the most disruptive innovation of the century and should be effectivelyused to implement robust democracy. For the first time in human history, we are all connected with smart devices, the Internet and applications. Can we use hyperconnectivity to help take human civilisation to the next level? Can hyperconnectivity prompt us to think differently about democracy, development, policies, processes, programmes, prosperity, services, benefits, governance, business, trade, economy, education, health and employment because we are now globally connected?
2) The environment needs urgent attention. We need fresh air to breathe and clean water to drink; weneed our green forests to flourish and our animals to thrive; the sky to remain blue and the oceans breeding more marine life; birds to fly free; and nature to take back control.
3) Democracy is the bedrock of human freedom, development, justice, potential, aspiration, experience and empowerment. It needs to be strengthened to enhance people's representation and participation to enable them to choose their destiny.
4) Governments must promote truth and not lies, trust and not mistrust, love and not hate, diversity and not uniformity, inclusion and not exclusion, collaboration and not conflicts and non-violenceand not violence. Governments must unite and not divide people. We must share, care andsacrifice for a better future for all. We must focus on public good and not personal gain.Governments must seek to minimise the influence of money power on democratic forces and government policy, programmes and preferences by controlling election funding and simplifying voting processes by using new technology and tools.They must recognise that decentralization of political power, a distributed form of decision-making and a bottom-up development that encourages active participation and wisdom from the local people are essential requirements in today's world.
5) We need a new economic model, one that moves beyond GDP to GEP (Gross Environment Development Product) and GHDP (Gross Human Development Product)—going beyondshareholders' values to stakeholder values, commonwealth and trusteeship.
We are living in an era of surplus and not scarcity. We can produce enough for everyone's needs,but, unfortunately, we are still busy making for the wants of just a few. We must change production priorities to meet basic human needs first.
A small number of people control most of the world's wealth, while a large number of people live in poverty and slums. Governments must change this. Globalisation and fair trade must be given due importance to ensure products and people can move freely, without unnecessary barriers and boundaries. In deciding what to localise, nationalise or globalise, local individuals and issues must be at the centre of the decision-making process, not corporates and their concerns for profits and lower costs.
We must believe in science and technology and scientific mindsets, logic and reasoning. As Einstein said, science can flourish only in an atmosphere of free speech. Without science and scientists, there is no future. The media is front and centre in this new journey. It must be independent, responsive, responsible, fair, ethical and moral, and ensure that its focus is mainly on representing facts and not on the expression of biased opinions. It must not twist facts, suppress the truth or promote lies.
Social media giants require better policing and a change in business models to promote truth and guard democracy. Digital platforms, social media, print, radio, television, etc., can be used effectively to help take this manifesto forward. Innovation is required at all levels in government, business and civil society to respond to the new realities of the hyperconnected world.
The reform of major international institutions like the UN, World Bank, IMF, NATO, WHO and others will go a long way in addressing a number of global issues. These institutions have made significant contributions but over time, stagnation has set in into their functioning. Besides reforming present global institutions, we have to create, at the UN level, new global institutions to deliver on inclusion, basic needs, new economy, sustainability and non-violence. Unfortunately, in the last 75 years, we have not created new institutions to meet new global challenges.
(The piece is authored by Sam Pitroda, former Advisor to the prime minister of India, innovator, policymaker & entrepreneur. He is the author of the book Redesign the World – A Global Call to Action.)