Bangladesh's seaports: Securing domestic and regional economic Interests
Jan 25, 2023 12:00 PM IST
This paper has been authored by Sohini Bose.
Bangladesh is one of the fastest growing economies globally. Over 90% of the country's international trade is through the ports of Chattogram and Mongla, which also provide the neighbouring countries an access to the sea for trade and connectivity. This paper seeks to assess the significance of the two seaports in advancing Bangladesh's domestic trade development, and their role in facilitating maritime commerce in the Bay of Bengal region.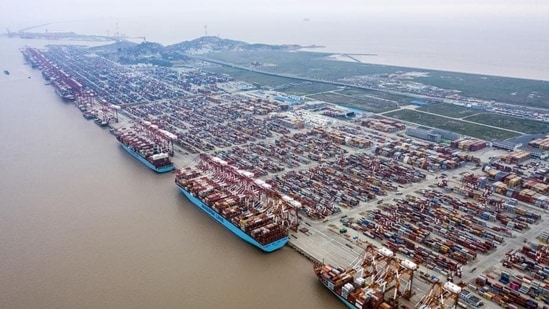 Once labelled a 'basket case' by United States (US) secretary of state Henry Kissinger in the aftermath of its economy-crippling liberation war, Bangladesh is now considered as one of the fastest growing economies in the world. From being one of the poorest nations at its birth in 1971, Bangladesh attained lower-middle-income status in 2015, and, as of 2022, is on track to exit the United Nations' list of least developed countries in 2026. Bangladesh is enclosed almost entirely by India (in the west, north, and east), with its south opening to the Bay of Bengal. As such, its seaports are crucial to the economy, and currently conduct over 90 percent of the country's international trade. Indeed, Bangladesh's location at the north of the Bay allows for access to the important sea lines of communication (SLOCs) that cross these waters.
Bangladesh has two seaports—the Port of Chattogram and the Port of Mongla. Although both are built on riverbanks, they are referred to as seaports because they are located a few kilometres upstream from the Bay. The maze of waterways on which both ports are built forms an integral part of a multimodal network that links the country to the hinterland, a contiguous zone of neighbouring countries (India, Nepal, Bhutan, Myanmar, and Thailand). As such, Bangladesh can assist the landlocked Himalayan countries of Nepal and Bhutan, and India's northeast region by providing them an access to the sea through its seaports. The Chattogram Port can also engage with the Sittwe Port in Myanmar, given its physical proximity to the country, and further with the Yangon Port in Thailand. Bangladesh's seaports are important maritime gateways for the neighbouring countries, especially those landlocked, with the potential to boost their trade. This also converges with the countries' interest in strengthening cooperation—bilaterally and through the Bay of Bengal Multi-Sectoral Technical and Economic Cooperation (BIMSTEC) —in the Bay region following the strategic resurgence of this maritime space. Indeed, Bangladesh's seaports have the potential to increase trade and connectivity in six of the seven BIMSTEC member countries.
This paper aims to understand the importance of Bangladesh's Chattogram and Mongla seaports in advancing the country's economic interests and facilitating regional commerce.
The paper can be accessed by clicking here
This paper has been authored by Sohini Bose.
Topics