India to explore the Seabed to meet Metal demands for Green Energy Transition
Jan 26, 2023 05:24 PM IST
This article is authored by Dr. Vijay Sakhuja, a maritime security analyst.
India is all set to join the elite group of countries – United States, United Kingdom, Germany, France, Russia, Japan, and China- to explore the sub-sea, and harness the unexplored wealth of the oceans on the seabed. The National Institute of Ocean Technology (NIOT) in Chennai under the Ministry of Earth Sciences (MoES) has announced plans to send three-member crew onboard a submersible to a depth of 6,000 meters. Dubbed as 'Samudrayaan Mission', the aims is "to observe and understand unexplored deep-sea areas by direct intervention". 'Matsya' the submersible, (fish in Sanskrit and an Avatar of Lord Vishnu), designed and developed by the NIOT, will be ready for operations by 2026.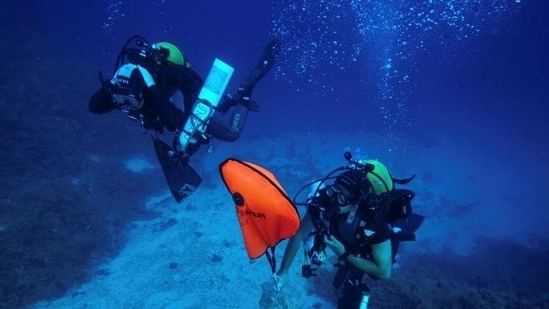 The Mission also involves assessing the impact of exploration-extraction of seabed resources on the underwater environment and ecology. This will be undertaken by the National Institute of Oceanography (NIO), Goa, another specialist institution under the MoES whose scientists have developed sophisticated sub-sea data buoys and instruments that will monitor the environmental impact of exploration of the seabed. It merits mention that fifty years ago, NIO's research vessel, RV Gaveshani successfully extracted Polymetallic nodules from a depth of 4,800 meters in the western Indian Ocean and this achievement led to India accorded 'Pioneer Investor' by the ISA.
The 'Samudrayaan Mission' is a mega project and is part of the Deep Ocean Mission announced by the Prime Minister on the occasion of the 75th Independence Day. Earlier, the government had approved Rs. 4,077 crore for the Deep Ocean Mission to be spent over five years.
So what lies at the bottom of the oceans? According to the International Seabed Authority (ISA), an agency mandated under the 1982 United Nations Convention on the Law of the Sea (UNLCOS), seabed is known to contain polymetallic nodules, polymetallic sulphides, and cobalt-rich manganese crusts. The ISA is also mandated to ensure that seabed extractions are sustainable and conducted keeping in mind the fragility of the marine environment and the underwater biodiversity. It is now working for a Mining Code to develop regulations for the extraction of these minerals.
In particular, the Clarion-Clipperton Zone (CCZ) measuring approximately 6 million square kilometers of seabed in the Pacific Ocean is known for vast resources of Polymetallic nodules. Similarly, large quantities of Polymetallic nodules are reported to be in the Central Indian Ocean Basin (CIOB) at depths of five to six thousand meters.
The World Bank has estimated that over 3 billion tons of minerals and metals will be needed by 2050 thus necessitating harnessing the wealth of the seabed. These are also critical for transitioning to a low-carbon economy that pivots on wind, solar and geothermal power. For instance, an electric car battery needs nearly 8 kilograms of Lithium, 35 kilograms nickel, 20 kilograms manganese, and 14 kilograms of cobalt. The demand for lithium and cobalt used for battery production will have to increase by nearly 500% by 2050. Similarly, a typical charging station for an electric vehicle requires significant quantities of Copper, and Zinc for the solar panels.
India has prioritised and promoted use of clean energy and is committed to mitigate climate change. In November 2022, during the G20 summit in Indonesia Prime Minister Narendra Modi told the participating countries that by 2030, half of India's electricity will be "generated from renewable sources." In order to fulfill this vision, India has little choice but to look towards the seabed.
As a Pioneer Investor, India was allotted 75,000 square kilometers in the Central Indian Ocean Basin. This Area contains nearly 380 million tons of Polymetallic nodules (Copper, Cobalt, Nickel, Manganese, Rare earths, etc.). The NIOT's Integrated Mining System is primed for mining at depths of 5000-5500 meters.
Seabed resource development also dovetails into the Indian mission of development of the Blue Economy currently assessed at nearly four per cent of India's GDP. The upcoming national Blue Economy policy aims to increase its share of GDP to double digits by 2047.
Globally, Blue Economy is valued at over US $ 24 trillion. It is not surprising that States have located Blue Economy high on their respective national agendas and in some cases dedicated ministries or department have been mandated to boost exploration of the wealth of the oceans and seas.
The development of Seabed mining is important and time is ripe for the Indian industry particularly those that are engaged in low carbon energy sector (electric vehicles, solar panels, wind turbines, batteries and wiring) to invest/support the seabed sector development. This is crucial given that terrestrial metals are fast depleting, and resources from the seabed offer the best option. However, a word of caution is a must i.e. seabed resource development must be sustainable.
This article is authored by Dr. Vijay Sakhuja, a maritime security analyst.
Topics