How to deal with cervical cancer in time
Jan 07, 2023 03:16 PM IST
Dr. Anjana Chauhan, director, Anurikaa Empowerment Foundation, Anurikaa Wellness Initiative, Ahmedabad, Gujarat.
Cervical cancer has been a neglected cancer in India, in-spite of having a very effective screening method, which can be not only prevent the cervical cancer but can be eliminated by early diagnosis and treatment.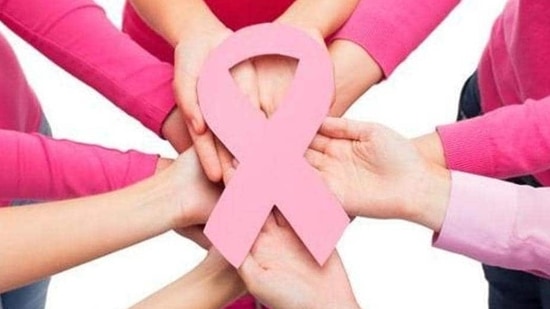 Cervical cancer remains the second most common malignancy in females and affects 5,30,000 women and causing nearly 2,70,000 deaths annually worldwide. It has an unequal geographic distribution, with the highest global disease burden confined to the developing countries, where the facilities to combat the disease are ineffective.
In India, it is estimated that 1,25,000 new cases are detected each year and nearly 70,000 premature deaths due to undiagnosed and untreated cervical cancer. It is the common cause of premature death among women in their reproductive years leading to devastating effect on the family and increase in social inequalities. On the other hand, implementation of effective, organised screening progammes in the developed countries has led to decrease in the incidence of cervical cancer by 70%.
The treatment of cancer affects the three major areas. First it has huge monetary coast for the patient and the family. Secondary, it is the loss of man hours to the country of both patient and relatives who are engrossed in the treatment of cancer which is lengthy and time-consuming. And the third, it has a social, psychological impact on the family, which have hardly been measured and addressed.
The most successful strategy for cervical cancer prevention is screening women with cervical cytology which is a routine test called Pap smear. It is a well-established and well-organised national population-based screening programme implemented in developed countries over last 50 years. As a result of early diagnosis and treatment, the cervical cancer rate and death are greatly decrease in those countries.
In India the problem for cervical screening are many, the foremost being the huge population. The second most common factor is lack of awareness and lack of acceptance that a simple HPV virus can cause a devastating cancer. India is also a land of diversity, with variations in sociocultural practices, variations in health care infrastructure with tertiary hospitals with state-of-the-art facilities and Public Health Centres and Community Health Centres with no facilities and no uniform screening strategy available for screening. There is also lack of uniformity in resources.
There is also lack of government strategies for compulsory implementation of various cervical screening programmes at the national and state level. The main reason is that there is no priority given to health issues affecting women especially pertaining to cervical cancer. It is a very slow growing cancer and does not cause immediate life-threating issues or death. There is also question of funds and resources required for screening of the huge eligible women population. Whatever the reasons, the screening for cervical cancer in India is opportunistic where the woman is offered screening, and she can decide whether to do it or not.
A link between Human Papillomavirus (HPV) infection and cervical cancers was established in early 1980s and now it is proved that HPV infection is the cause of cervical cancer. There are numerous types of HPV virus and among them HPV type 16 & 18 are responsible for 70% of cervical cancer worldwide. They are hence designated as high-risk types of HPV virus and known to be carcinogenic, meaning virus causing cancer.
Majority of HPV infection are transient, asymptomatic and resolve spontaneously in an immunocompetent female. 80% of the infections clear up within three years. Persistent of infection for at least for six months duration with high-risk HPV types is the first step in progression from HPV infection to cervical cancer.
Other various predisposing factors associated in the development of cervical cancer are early marriage, multiple pregnancies, multiple sexual partners, smoking, poor hygiene, HIV infection, drug abuse and sexual partner having multiple partners.
HPV infection mainly spreads by skin to skin contact commonly being sexual contact but can also spread by fomites. As the HPV infection has no symptoms, it is difficult to identify women having the infection, and the initial damage caused by the virus. The best way to detect the infection is to undergo HPV testing which is the new technique developed for screening cervical cancer.
There are now new guidelines for replacing HPV testing rather than doing Pap smear for screening for cervical cancer. And if woman is infected with the high-risk HPV virus, then to do triage of testing of pap smear and colposcopy for detection of any pre- cancer condition of the cervix. At this stage, if a woman is diagnosed and treated on time, it is 100% curable. The advantages HPV testing is the high negative predictive value and the risk of developing pre-cancer condition of cervix is nearly zero at five to six years. This characteristic of HPV testing could permit longer screening intervals and result in fewer screening visits during a woman's lifetime as compared to pap smear which has to been done every two to three year intervals.
The establishment of central role of HPV infection in cervical cancer has led to new horizons for primary prevention by combating the infection and developing a vaccine against HPV infection.
Hence the most effective way for prevention of HPV infection is HPV testing and HPV vaccination. Australia has a very effective national cervical screening programme and HPV vaccination for both boys and girls going on since last 15 years, which will lead to elimination of cervical cancer by 2025. Other developed countries, where there is a very effective well-organised cervical screening progammes and national HPV vaccination, have seen a decline of cervical cancers cases.
This has led the World Health Organization (WHO) calling for action for the global elimination of cervical cancer since it is a preventable cancer. It recommends that each country should screen at least 70% of women with a high-performance HPV test at ages 35 and 45 years by 2030 for elimination of cervical cancer.
The WHO Vision: A world without cervical cancer – A Target by 2030 aims to bring down the cases of cervical cancer below four cases per 100,000 women years. That can be achieved only by following:
90% girls fully vaccinated by HPV vaccine by 15 years of age
70% women screened by HPV test at 35 and 45 years of age and all managed appropriately
90% women identified with cervical disease and receive treatment for pre-cancer lesions and invasive cancer. At present the cervical screening done in India is only five to six per cent, and HPV vaccination is negligible. Hence, India faces a huge challenge ahead for achieving the goals of the WHO Vision.
Today in India every eight minutes, one woman dies due to cervical cancer, a totally preventable cancer.
It is not the sole responsibility of government alone to combat this disease. Corporates and NGOs should join to fight this silent killer.