Expect no concessions on sovereignty in Xi's India visit
Jayadeva Ranade Jayadeva Ranade
Sep 10, 2014 02:53 AM IST
When PM Narendra Modi meets 61-year-old Chinese President Xi Jinping next week, he will meet a self-confident, intelligent individual with wide administrative experience who is comfortable with the exercise of power, writes Jayadeva Ranade.
Prime Minister Narendra Modi's meeting with Chinese President Xi Jinping, within a fortnight of his summit with Japan's Shinzo Abe and before his meeting later this month with United States President Barack Obama, highlights the strategic flexibility that India exercises.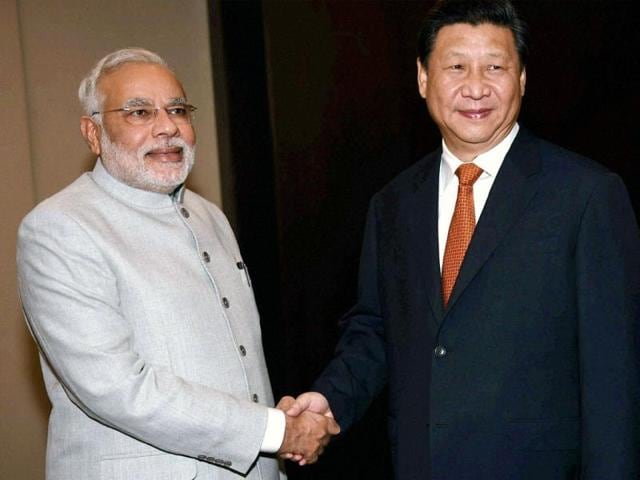 When Modi meets 61-year-old Xi next week, he will meet a self-confident, intelligent individual with wide administrative experience who is comfortable with the exercise of power.
He will also meet a Chinese Communist Party (CCP) cadre who suffered during the Cultural Revolution and was sent to the country-side for 'political re-education', but nevertheless joined the CCP and rose through its ranks exhibiting unwavering faith in the party and belief in its ideology and 'China's destiny'.
Xi's father, Xi Zhongxun, was a veteran communist cadre and close comrade of Mao Zedong and Deng Xiaoping. Xi Jinping enjoys the support of many fellow 'princelings' and influential 'elders' in the party and army who were his father's comrades.
He buttressed links with the military when he was secretary to his father's friend, defence minister Geng Biao, during 1979-82. This support helped Xi rapidly consolidate additional power within a year of his appointment in December 2012 to China's three top posts of chief of the CCP, army and the state.
He quickly installed loyalists in key positions in the CCP, security establishment and the People's Liberation Army (PLA) and heads seven of the CCP's highest bodies. The authoritative party journal Qiu Shi this June described Xi as "one of China's greatest communist leaders." Xi is today the most powerful leader in China since Mao.
Of particular importance to China's neighbours is the 'China Dream'. This is a muscular aspiration articulated by Xi at the 18th Party Congress comprising three elements: Making the Chinese people wealthy; making China strong; and the 'rejuvenation' of China. 'Rejuvenation' includes restoration of China's 'lost' historical territories and former status in the world. China's actions in the South China Sea and maritime territorial dispute with Japan are pursuant to this.
Pertinent in this context are the intrusions last April in the Depsang Plains in Ladakh and one of shorter duration in the Burtse area of Ladakh in mid-August this year.
Senior Chinese officials disclosed last April that the intrusion was approved by the Politburo, which had also assessed that India would not cancel the scheduled visit of Chinese Premier Li Keqiang.
The intrusion in August followed an inspection of PLA posts opposite Chushul, Pangong Lake and Shenwenxian, which exercises operational jurisdiction over the Depsang Plains, by a high-powered PLA delegation led by Xu Qiliang, vice chairman of the CMC and another by the deputy secretary of the Tibet Autonomous Region (TAR).
China also claims Arunachal Pradesh and has expanded claims over Jammu and Kashmir. It has successfully pressured international financial organisations to accept its version of so-called 'disputed' areas.
Xi will be accompanied among others by Politburo member Wang Huning, seen by Xi's side at all meetings; China's special representative for talks with India and state councillor Yang Jiechi; foreign minister Wang Yi; and commerce minister Gao Hucheng. Also 135 Chinese CEOs are registered to arrive with Xi.
Economic issues will figure prominently, especially the imbalance in trade and Chinese investment in India's infrastructure and economy. India offers China the world's largest market for investing its sizeable cash surplus and getting a return on investments.
It is anticipated that Japan's recently announced commitment to invest $35 billion over five years will see higher serious Chinese commitment. India needs to quickly and clearly identify infrastructure and other projects open to Chinese investment and companies for time-bound completion, while carefully isolating those in sensitive sectors.
Xi may propose some confidence-building measures additional to the Border Defence Cooperation Agreement (BDCA), but there will be no concessions on issues of sovereignty and territory. India should, however, respond positively to China's offer of an additional route via Nathu-la for pilgrims visiting Mansarovar.
The inclusion of Pakistan in Xi's original travel itinerary was to re-emphasise that Sino-Pak relations remain steadfast. Its postponement, a decision China would not take lightly as it likes to demonstrate that it stands by its friends, reveals serious concern about the political and security situation there which places China's massive strategic investments, in Gilgit-Baltistan, Baluchistan and nuclear plants at Karachi and elsewhere, at risk.
While reports earlier indicated that Xi will try to assuage India's concerns about Sino-Pak ties, he is now likely to elicit India's assessment about developments in Pakistan. As China's leadership deliberates whether to insist that India reiterates that Tibet is a part of the People's Republic of China, a statement India has withheld making for four years, the Tibet issue will be on the agenda.
Xi's objectives, for his first visit to India as president, are to get acquainted with India's new leadership, 'manage' India-China relations and prevent India from partnering with the US and Japan to 'contain' China. Deepening economic engagement with India will be of mutual benefit in addition to offering Beijing the prospect of creating an influential pro-China lobby among India's businessmen.
China has made amply clear though, that burgeoning economic ties will not translate into good bilateral relations.
Jayadeva Ranade is a member of the National Security Advisory Board and former additional secretary, Cabinet Secretariat, Government of India. He is also president of the Centre for China Analysis and Strategy
The views expressed by the author are personal
"Exciting news! Hindustan Times is now on WhatsApp Channels
Subscribe today by clicking the link and stay updated with the latest news!"
Click here!