HTLS column by Jayadeva Ranade: Friendship, competition between Asia's Big 3
Nov 23, 2017 08:30 AM IST
With economic growth as the key aim, dynamic leaders of China, India and Japan are inspiring their countries to emerge as major powers
The current decade is witnessing changing global alignments and shifting power balances. This is particularly visible in Asia where high rates of economic growth have inspired China, India and Japan to try and re- emerge as major global and economic powers. Coincidentally, all three countries have strong, dynamic and nationalist leaders with an articulated vision for their countries where economic development is a central objective. This has kindled national aspirations, introducing a competitive edge in the relationships. Peaceful relations between India and China are especially important for them to achieve their national aspirations.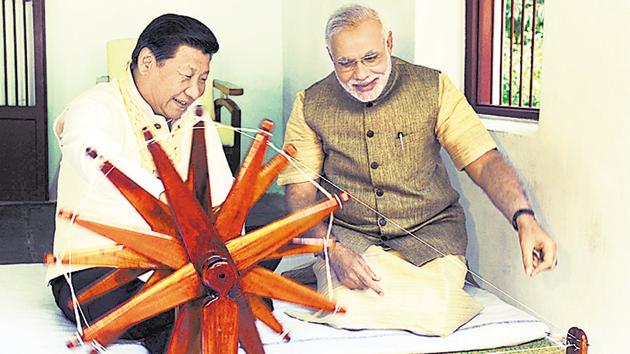 China's 'rise' has become a factor confronting countries in the region, particularly as it seeks to exp- and economic and military influence and re-arrange the strategic geography on its periphery to its advantage. With its economic and military strength growing, China has over the last decade adopted assertive foreign and strategic policies that have put pressure on its neighbours, including challenging their territorial boundaries. In 2012, Xi Jinping's was appointed as general secretary of the Chinese Communist Party (CCP), chairman of the Central Military Commission (CMC) and President of China. His mandate was to ensure the CCP's monopoly on power and restore its legitimacy. Xi Jinping has used ideology and nationalism to achieve these goals. China's assertiveness and aggression, as being witnessed in the South China Sea and the use of trade as economic weapons against Japan and the Philippines. Beijing has not hesitated to clash with Vietnam or the Philippines either as it tries to advance its maritime claims.
The 19th Party Congress in Beijing from October 18 to 24, 2017, further strengthened Xi Jinping. It approved his grand plan for China's development, first phase till 2030 and the second till 2050. These are the 'China Dream', including "rejuvenation of the great Chinese nation" by 2021 – the centenary of the CCP -- and making China a developed nation having "pioneering global influence" by 2049 – the 100th anniversary of the founding of the People's Republic of China (PRC) -- together called the 'Two Hundreds'. The second phase envisages completion of the strategic geo-economic 'Belt and Road Initiative' (BRI), which India has not endorsed. The Party Congress has incorporated the BRI in the Party Constitution implying there will be greater pressure for its realisation. Xi Jinping's acolytes have been saying since 2013 that 'China has begun a new 30-year era under Xi Jinping like those earlier of Mao Zedong and Deng Xiaoping'!
In 2014, the BJP-led government came to power in India with a huge mandate, which meant its foreign and strategic policies were no longer constrained by domestic politics. The new government of Prime Minister Narendra Modi moved confidently to commence building military capabilities and border defences. It rapidly engaged with neighbours like Nepal, Bhutan, Bangladesh and Sri Lanka to consolidate relations and encourage them to benefit from India's economic growth. It offered them an alternative to China's increasing influence. The new government also reinvigorated ties with the US, Japan and some European countries with the twin objectives of attracting capital and technology and giving India additional room for manoeuvre vis-à-vis China. Modi simultaneously reached out to Beijing, making clear India's desire for friendly ties and Chinese investment in various sectors.
In April 2015, Beijing announced the China-Pakistan Economic Corridor (CPEC), shedding its decades-long ambiguity on the issue of Pakistan occupied Kashmir (PoK), Gilgit and Baltistan and enhancing comprehensive support to Pakistan. China underscores this commitment by insisting in interactions at government and non-government levels that India should ease tensions with Pakistan, resolve the Kashmir issue and then look to improved ties with China. It blocked India's requests regarding terrorists at the UN Sanctions Committee and admission to the Nuclear Suppliers Group.
PM Modi and Chinese President Xi Jinping have met an nine times. Relations, on the face of it, have been cordial. But the recent face-off at Doklam has cast a long shadow on the relationship. Articles in the Chinese state media instigating anti-India sentiments indicate that China has not accepted the decision of August 28 for troops to disengage, lending uncertainty to the relationship in the short to near term.
(The author is a former additional secretary in the cabinet secretariat, Government of India and is president of the Centre for China Analysis and Strategy.)
"Exciting news! Hindustan Times is now on WhatsApp Channels
Subscribe today by clicking the link and stay updated with the latest news!"
Click here!