11 foreigners test positive for Covid-19 in Jamshedpur amid scare over mutant variant
Dec 31, 2020 11:38 PM IST
Those who tested for Covid-19 were among 46 foreigners from the Philippines, Ghana, South Africa, New Zealand and Zambia who were staying at the same hotel.
Jamshedpur was on the edge after 12 persons, including 11 foreign nationals, tested positive for Covid-19 positive on Thursday amid scare of new strain of coronavirus detected in the United Kingdom, officials said.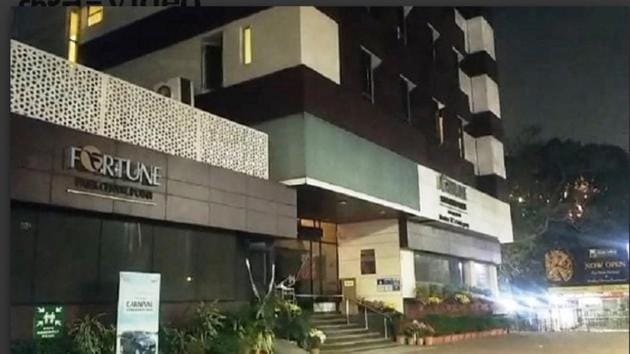 "11 foreigners staying in the Fortune Centre Point Hotel here under Bistupur police station (PS) and a staff of the hotel tested Covid-19 positive here this evening. The hotel has been sealed and all of them have been quarantined in the hotel. These 11 foreigners were among 46 foreign nationals who had come to Jamshedpur between December 5 and 8 and had been staying in the hotel since then," Dr Sahir Pal, Jamshedpur additional chief medical officer (ACMO), said this evening.
He said these 46 foreigners had come from the Philippines, Ghana, South Africa, New Zealand and Zambia.
"They came here for work and were working in Tata Steel as employees of Mill Track International Company. Their samples were tested in the Tata Main Hospital (TMH) and the report of the 11 foreigners came Covid-19 positive today. Subsequently, samples of 29 hotel staff were also tested and one of the staff also tested positive," said Dr Pal.
As per Union Health Ministry directive, the samples of these Covid-19 positive patients will now have to be sent to National Institute of Virology (NIV) in Pune for advanced and specialized testing for the new strain of coronavirus. It was, however, still not clear as to if they came directly to India from their countries or via the UK.
The new Covid-19 strain is said to spread 70% faster. Identification of nearly 17 potential alterations have been found during the preliminary analysis of the mutant variant of the virus.
Jamshedpur has so far witnessed the highest number of Covid-19 fatalities in Jharkhand at 374. The state's Covid-19 tally stands at 17,585. Out of these, 16, 984 have been cured and released from the hospitals, leaving 227 active patients till Wednesday night.