'2+2 not always 4,': CM Shinde on survey projecting MVA's win; Uddhav says...
Jan 27, 2023 07:20 PM IST
Maharashtra chief minister Eknath Shinde said he knows how many people were interviewed for the survey. "In politics, two plus two is not always four," Shinde said commenting on the Maharashtra result of India Today-C Voter's Mood of the Nation Poll.
Maharashtra's former chief minister Uddhav Thackeray said the projection that if Lok Sabha elections are held today, the Maha Vikas Aghadi will beat the Shinde-Fadnavis alliance by winning 34 seats out of total 48 seats, is a "very cautious number". "I am sure MVA will win at least 40 seats in the 2024 Lok Sabha election," Uddhav Thackeray said reacting to India Today-C Voter's Mood of the Nation poll.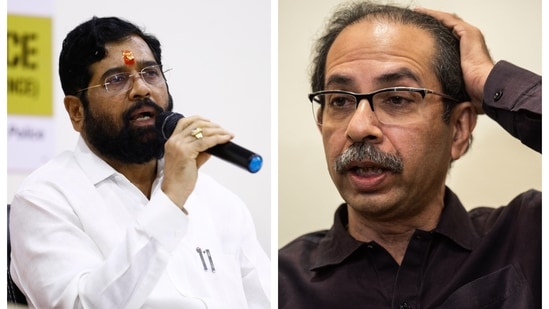 In the earlier opinion poll held in August -- just after the Uddhav-led MVA government was toppled by Eknath Shinde's rebellion -- the projection was 30 implying that the tide turned in favour of the Maha Vikas Aghadi-- the alliance of the Shiv Sena, the Congress and the NCP after the Shinde-Fadnavis government came to power in the state.
"So Mood of the Nation survey proves that people of Maharashtra have not taken kindly to the gaddars and BJp playing the role of facilitators to unconstitutional moves," Shiv Sena (Uddhav Balasaheb Thackeray) MP Priyanka Chaturvedi wrote.
On the list of the most popular chief ministers too, Eknath Shinde is at 8th with only 2.2% people in favour of him, according to the survey.
Eknath Shinde, on the other hand, termed the survey as baseless and said it did not reflect the sentiment and opinion of the grassroots. "I can assure you that we will break all records in the next Lok Sabha elections," CM Shinde said adding that the survey was conducted by questioning only a few people.
"The results of the recent gram panchayat elections prove that people are with our government. The previous (MVA) government did not do anything for the people in the last couple of years of its tenure," he added.
"In politics, two plus two is not always four. A survey based on just a handful of people does not give the real picture...I have got the details of how many people were surveyed. I do not want to go into any figures," he said.
(With agency inputs)