After 29 hours, three-year-old Bihar girl rescued from borewell
Aug 02, 2018 11:18 AM IST
The National Disaster Response Force and the State Disaster Response Force launched a joint effort to rescue the child who was trapped at a depth of 43 feet.
After a nearly 29-hour ordeal, a three-year-old girl was on Wednesday night extricated from a 100-feet deep borewell in Bihar's Munger district that she had fallen into a day earlier.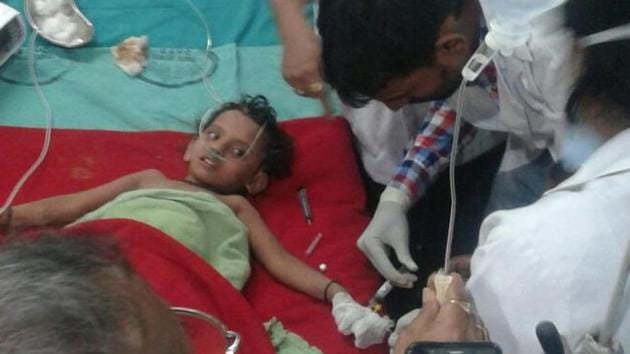 Sana, daughter of Nachiket Sah, a bank employee and resident of Chaiti Durga Mandir locality in Munger, was taken out of the borewell at her grandfather's place in Murgiyachak locality around 9.30 pm and rushed to a hospital. Her condition was said to be stable.
The National Disaster Response Force (NDRF) and the State Disaster Response Force (SDRF) had launched a joint effort to rescue the child who was trapped at a depth of 43 feet.
Bihar chief minister Nitish Kumar expressed his happiness and relief at the rescue act.
A student of Montessori House of Children, Notre Dame in Munger, Sana had slipped into the borewell while playing with other children on Tuesday.
The borewell was being dug inside the house of her maternal grandfather, Umesh Nandan Prasad Sah, who she went visiting with her mother two days earlier. The two houses are one kilometre apart.
Principal secretary, disaster management department, Pratyaya Amrit said the NDRF and SDRF did a commendable job.
Earth was dug horizontally and then a parallel vertical hole was dug to rescue the child. All along, oxygen supply was maintained to the child externally. In order to ensure safety of the child, the rescue team resorted to manual digging when they reached near the trapped child.
Earlier, three members of the NDRF, with some equipment, were airlifted from Patna and another team was dispatched by road on Wednesday afternoon, said NDRF commandant Vijay Sinha.
The Munger administration had initiated rescue operation immediately on receipt of information, requisitioning the SDRF from Khagaria.
Divisional commissioner, Munger, Pankaj Kumar Pal, monitored the rescue operation.
Though there is no national register of children getting trapped in borewell shafts, the number with the home ministry in Delhi showed that accidental deaths of children due to a fall in pits and manholes had gone up from 175 in 2010, to 192 in 2011 and 194 in 2012.
The largest number of these child casualties was reported from Madhya Pradesh (67 children killed in 2012), followed by Maharashtra (39), Uttar Pradesh (19), Gujarat (18) and Tamil Nadu (13).
A five-year-old girl died after she fell into a borewell in Patna's Mitra Mandal Colony in June 2015.
In August 2017, a two-year old Chandra Sekhar was rescued after 12 hours of falling into a borewell while playing with children in Andhra Pradesh's Guntur. In September 2013, a three-year-old child, Naveen, was rescued after nearly three hours of falling into a borewell in Chandigarh.