Ahead of Gujarat oath ceremony, PM Modi's roadshow in Ahmedabad. Watch
Dec 12, 2022 06:35 AM IST
Gujarat oath event: Bhupendra Patel will be sworn in on Monday for the second time as chief minister.
Prime Minister Narendra Modi on Sunday evening held a roadshow in Gujarat's Ahmedabad ahead of the oath ceremony of Bhupendra Bhai Patel. He will be sworn in on Monday for the second time as the chief minister of Gujarat after the BJP's record win. The party has retained the state for a seventh straight term with a 52.5 per cent vote share. It clinched 156 of 182 constituencies.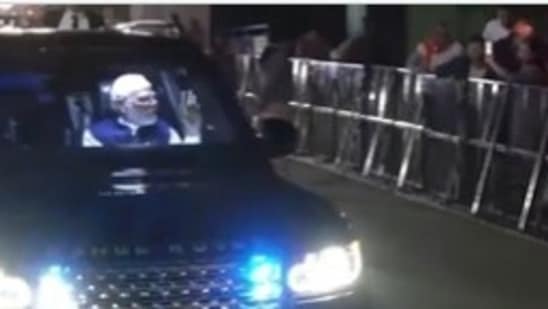 In his home state to attend the oath event, the Prime Minister was seen greeting locals during the roadshow. A video tweeted by the party captured the grandiosity of the show and the huge crowds that had gathered. Union Home Minister Amit Shah was with him. A large number of party workers were also present. During the election campaign, PM Modi had held one of the longest roadshows in Ahmedabad of nearly 50 km.
The event came after he visited Maharashtra and Goa earlier in the day for a slew of development projects. The flagging off of the country's sixth Vande Bharat in Maharashtra's Nagpur, and the unveiling of the second airport for Goa, which will be named after former defence minister Manohar Parrikar.
The BJP ran a high-blitz campaign in the state with PM Modi holding nearly 30 rallies. Many union ministers and chief ministers also visited the state to back the candidates.
While the Aam Aadmi Party (AAP) had also posed itself as a key challenger, it ended up with just five seats in the assembly. The Congress got just 17 seats, much lower than its 2017 tally (77 seats).
In his victory speech in Delhi, after the BJP's massive win, PM Modi said that Gujarat "made a record to break a record", as he also said that the youth rejected the "dynastic politics".