Punjab election: Amarinder Singh seals alliance with BJP with a hug, says 101% sure of winning
Dec 17, 2021 05:20 PM IST
Seven rounds of talks have been held between Punjab Lok Congress and the BJP and issues like seat-sharing are yet to be finalised.
Amarinder Singh's party Punjab Lok Congress will fight the assembly election in alliance with the BJP, Punjab BJP in-charge Gajendra Singh Shekhawat confirmed on Friday after a meeting with former Punjab chief minister Amarinder Singh. Amarinder Singh too announced the alliance on Twitter posting a photo of Amarinder Singh and Gajendra Singh hugging. "We have formally announced a seat adjustment with the BJP for the 2022 Punjab Vidhan Sabha elections," Amarinder Singh tweeted.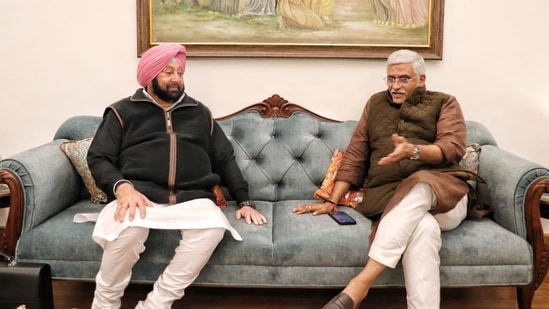 "We are ready and we are going to win this election. The decision on seat-sharing will be taken on the seat to seat basis, with winnability being the priority. We are 101% sure of winning this election," Amarinder Singh said.
Punjab is scheduled to go to the polls next year and what makes the election more interesting is the political development in the state in the last six months. Amarinder Singh was asked to resign from the chief minister's post by the Congress high command as Congress MLAs rebelled against him. Following the 'insult', Singh quit the Congress and floated Punjab Lok Congress. The room for forging an alliance with the BJP was always open with the farm laws being the only roadblock as Amarinder Singh opposed the three farm laws since the beginning. With the Centre repealing those laws just ahead of the Punjab election, the road for an alliance with the BJP became clear from Singh.
In the alliance, BJP will be the senior partner and is likely to contest in more seats than Punjab Lok Congress.
Apart from BJP-Punjab Lok Congress, the AAP factor will also be crucial in the upcoming election as Arvind Kejriwal's party is campaigning in the state with all guns blazing.
Congress is likely to opt for Navjot Sidhu, the chief of the party's Punjab unit, as the CM face, instead of present chief minister Charanjit Singh Channi.