BBC documentary row: AK Antony's son targets Jairam Ramesh, says 'perfect ally'
Jan 29, 2023 05:18 PM IST
Anil Antony who recently resigned from the Congress in the middle of the BBC documentary row on Sunday targetted the Congress as he shared old BBC reports where truncated India maps were used.
In collateral damage of the row over BBC's documentary on Narendra Modi, Anil Antony, son of former defence minister AK Antony, left the party citing pressure from the party to delete his tweet criticising BBC. The acrimonious episode is far from being over as Anil Antony on Sunday directly targetted Congress general secretary Jairam Ramesh and spokesperson Surpiya Shrinate in his latest tweet.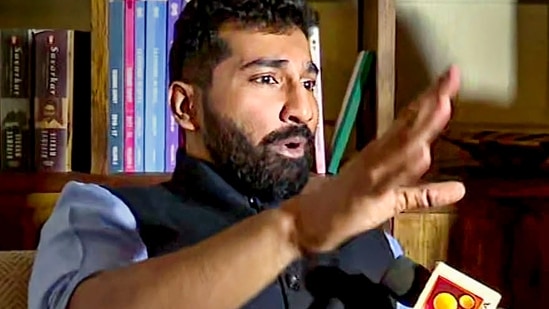 Sharing screenshots of BBC news reports where truncated maps of India without Kashmir were used, Anil Antony called BBC a repeat offender. "Independent media without vested interests, indeed, and perfect allies for the current Congress and partners," Anil wrote tagging Jairam Ramesh and Supriya.
"Some past shenanigans of BBC, repeat offenders questioning India's territorial integrity, publishing truncated maps without Kashmir," Anil Antony said as Congress's Bharat Jodo Yatra concluded on Sunday in J&K.
In a hard-hitting resignation letter, Anil Antony said he was threatened after his tweet and he was made aware that the "coterie around the leadership is only keen to work with a bunch of sycophants and chamchas". Without naming Anil Antony, Jairam Ramesh questioned his role in the party and towards the Bharat Jodo Yatra, which Anil described as 'trek to promotte love'.
The two-part series of BBC on Gujarat riots which is critical of the role of then chief minister Narendra Modi was screened outside India. On Sunday, members of the Hindu Sena protested in front of the BBC office in Delhi and put up posters reading "BBC is threat to India's Unity and it should be banned", "BBC stop tarnishing India's image. BBC leave India" etc.
The government has banned the documentary in India and asked Twitter and YouTube to remove content sharing links to the same.
During the past week, Jawaharlal Nehru University, Delhi University and Jamia Milia Islamia witnessed unrest over the screening of the documentary.
Topics