Bihar's Shahi litchi may soon have GI tag
Jun 22, 2018 11:44 PM IST
The GI tag is given to products that have a specific geographical origin and possess qualities or reputation that are due to that origin.
The famed Shahi litchi, grown extensively in many north Bihar districts, may soon be bestowed with the Geographical Indications (GI) tag. The details of the luscious fruit have been advertised in the Geographical Indications Journal, number 107, of June 5, 2018.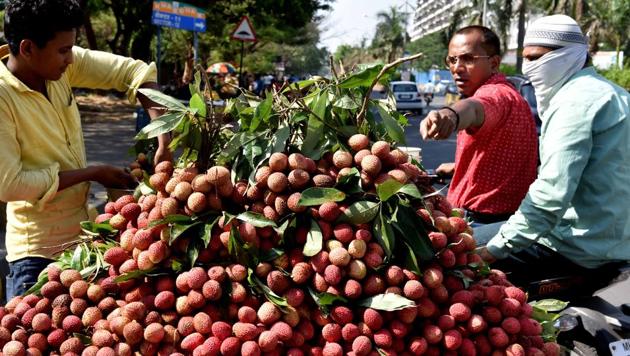 The journal has been made available in public domain as per rule 41(1) of Geographical Indications of Goods (Registration and Protection) Rules, 2002.
Stay tuned with breaking news on HT Channel on Facebook.
Join Now
Three agricultural products of Bihar — Bhagalpur's Jardalu mango and Katarni rice as well as Magahi paan (betel leaf) cultivated mainly in Nawada, Aurangabad and Gaya districts of the state — had recently been recognised in the Geographical Indication (GI) registry.
The GI tag is given to products that have a specific geographical origin and possess qualities or reputation that are due to that origin.
"If everything goes well, there is a fair chance of Shahi litchi getting the GI tag within three months, said Ajoy Kumar Singh, vice chancellor of Bihar Agriculture University (BAU), Sabour, which is involved in facilitating early GI registration of the fruit.
"Details of Shahi Litchi have been published in the Geographical Indications Journal and been made available in the public domain. If no objections are raised, Shahi litchi could be cleared for GI registration within three months," Singh said.
Singh, who had been actively involved in compilation of Shahi litchi's details, said the GI registration would help the exclusiveness of the produce and protect interest of its growers.
BAU director (extension) RK Sohane said after GI registration the growers would be in a position to authenticate the product while selling it within the country as well as abroad.
He said the high potential of Shahi litchi to meet the demand of structured market had remained unexploited so far. "The GI tag will definitely provide an opportunity to tap this potential," Sohane added.
The application for GI registration of Shahi Litchi has been submitted by Muzaffarpur-based Litchi Growers Association of Bihar. Apart from Muzaffarpur, Shahi Litchi is grown extensively in Samastipur, Vaishali, East Champaran, and Begusarai districts of north Bihar.
The details posted in the Geographical Indications Journal mentions that litchi, initially introduced in Bengal, gradually spread to other parts of country, including Bihar, Uttar Pradesh and Punjab. Humid condition and alluvial soil having fairly good amount of calcium content in Muzaffarpur and Darbhanga, besides nearby areas, proved ideal for litchi cultivation in Bihar, it says. It further states that the Shahi variety, known for its excellent quality, has been largely identified with Muzaffarpur, the area where it was developed.
As proof of origin, it has been stated that litchi was an important fruit crop of Muzaffarpur and Darbhanga region in 1907. The details also refer to contents of Bihar District Gazetteers, Darbhanga, 1964, to substantiate the point. It also mentions the method of production, fruiting and maturity, harvesting yield and post harvesting handling.