BJP MP Tejasvi Surya paints party symbol on walls of houses, triggers row
Feb 03, 2023 12:39 AM IST
Demanding action against the Bengaluru South MP, the BNP said: "Why, despite being aware of BJP leader Tejasvi Surya painting BJP logo on city walls, has BBMP not initiated any action against him"
Bharatiya Janata Party (BJP) lawmaker Tejasvi Surya has courted a controversy after he painted the party's poll symbol on the walls of houses in Bengaluru as part of the party's ongoing Vijaya Sankalpa Abhiyana ahead of the assembly elections.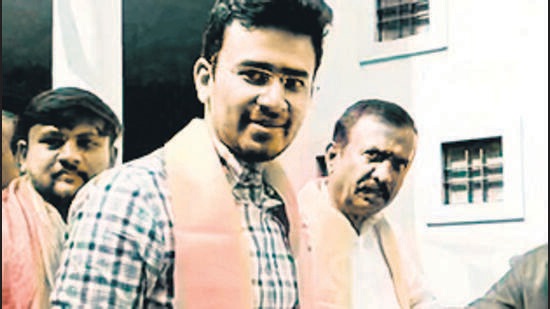 The Bengaluru NavaNirmana Party (BNP), a city-based political party, has condemned the move and alleged that the BJP flouted a court order and civic body rules.
"No person or party is allowed to misuse public space in this manner. It is against the court order. How can a political party think of disfiguring public places like this?" BNP said in a statement. "Imagine if every other party began doing this. This offence of creating visual pollution by the BJP MP was in the news and all over social media."
The party also cited the Bruhat Bengaluru Mahanagara Palike (BBMP) advertisement bye-laws (2006), which said: "No person shall use 'Wall Painting' as an outdoor media in the city of Bengaluru without valid permission from the Commissioner of BBMP, except in the prescribed 'D' zone as per conditions prescribed by the Council in this regard."
Demanding action against the Bengaluru South MP, the BNP said: "Why, despite being aware of BJP leader Tejasvi Surya painting BJP logo on city walls, has BBMP not initiated any action against him?"
"We demand that the joint commissioners and chief engineers of the zones take this seriously and take action against BJP MP Tejasvi Surya without any fear or favour," it added.
Jayaram Raipura, BBMP zonal commissioner (South) told the media that the civic body has received a complaint in the matter. "This action is illegal. We will take the required action," said Raipura.
While Surya or his office did not respond to multiple calls made by HT for a comment, a senior BJP leader, requesting anonymity, said the symbols were painted "outside the houses of party members".
Earlier, Surya had taken to social media to post videos in which he could be seen painting BJP's election symbol 'lotus' on the walls of the houses in Padmanabhanagar area.
On January 22, he posted on Instagram: "Participated in Karnataka BJP's Vijaya Sankalpa Abhiyana in Padmanabhanagar, Bengaluru today along with our leaders. We're taking the good work of our double engine governments led by PM Shri Narendra Modi Ji & CM Shri Basavaraj Bommai Ji to the people. Glimpses of the interaction!"
This is not the first time Surya has landed in a controversy. Last month, Opposition Congress targeted the Bengaluru South MP following reports that a passenger who accidentally opened the emergency exit of an IndiGo airline flight after boarding at Chennai airport was the BJP Yuva Morcha chief. A day later, Union civil aviation minister Jyotiraditya Scindia commented on the incident, saying the passenger Surya mistakenly opened the emergency exit and apologised for the mistake. All checks were done and there was no threat to security, the minister added.