Rahul Gandhi meets Prez over farm laws, says India an 'imaginary democracy'
Dec 24, 2020 05:08 PM IST
The Delhi Police did not allow Congress general secretary in-charge of Uttar Pradesh, Priyanka Gandhi Vadra, and some other leaders to proceed to the Rashtrapati Bhawan and took them into preventive custody
Former Congress president Rahul Gandhi on Thursday alleged that India is now an "imaginary democracy" as he attacked Prime Minister Narendra Modi, saying anyone "trying to take power from him will be dubbed as terrorist and anti-national" even if it is Rashrtriya Swayamsewak Sangh (RSS) chief Mohan Bhagwat.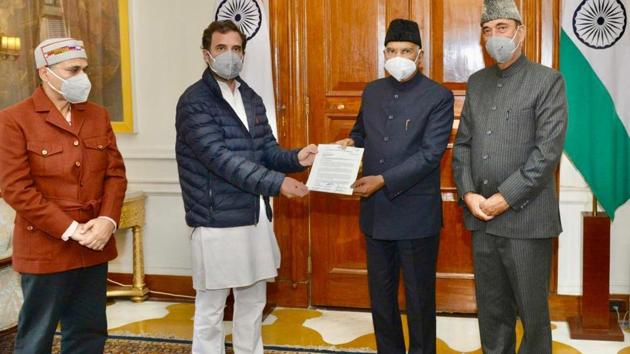 Leading a Congress delegation to meet President Ram Nath Kovind, Rahul Gandhi demanded a joint session of Parliament to repeal the three "anti-farmers, anti-agriculture, anti-poor and black" laws.
Stay tuned with breaking news on HT Channel on Facebook.
Join Now
"Democracy…. which country are you talking about? There is no democracy in India. It is in your imagination but not in reality," he told reporters after handing over to the President a memorandum signed by 20 million farmers seeking withdrawal of the three legislations.
However, the government dismissed the remark and recalled the emergency imposed by former Prime Minister Indira Gandhi.
"The country hasn't forgotten what happened during emergency days. Democracy has flourished in Prime Minister Modi's term," union minister Kailash Choudhary said.
Also Read: Congress march to President stopped, Priyanka Gandhi taken into custody
But launching his fiercest attack yet on Modi on the farm laws, Rahul Gandhi alleged that the Prime Minister will ensure that wealth of people is transferred to crony capitalists.
"Whoever will try to stand against him will be called terrorist - be it farmers, labourers and even if (RSS chief) Mohan Bhagwat stands against him, he too will be called a terrorist. Anyone trying to take power from him will be dubbed anti-national," he said.
Apart from him, Leader of the Opposition in the Rajya Sabha Ghulam Nabi Azad and party's leader in the Lok Sabha Adhir Ranjan Chowdhury were the other two members of the delegation that met the President.
Soon after the Farmers' Produce Trade and Commerce (Promotion and Facilitation) Act, 2020; Farmers (Empowerment and Protection) Agreement on Price Assurance and Farm Services Act, 2020; and the Essential Commodities (Amendment) Act, 2020 were enacted, the Congress launched a three-month-long "mass movement" against the government. Rahul Gandhi also undertook a 'tractor yatra' across Punjab and Haryana as part of the campaign.
"You have an incompetent man who does not understand anything and is running a system on behalf of three or four other people who understand everything," he said.
The former Congress president said if the Prime Minister does not repeal these laws, the country will suffer.
"We told the President that these laws are anti-farmer and anti-farm labourers. The government claims the laws are in favour of farmers, but they are standing up against these," he added.
"I want to tell the Prime Minister that farmers are not going back home until the laws are taken back. The government should convene a joint session of Parliament and repeal them," he said.
The former Congress chief said all opposition parties are standing with farmers. "The way these laws were passed in Parliament without any discussion and consultations, they need to be withdrawn," he said.
"The farmers are in pain and dying, the Prime Minister will have to listen to them," Rahul Gandhi added.
Earlier, Delhi police detained Congress general secretary Priyanka Gandhi Vadra and other leaders and took them to Mandir Marg police station for violating prohibitory orders after they held a sit-in protest outside the party office at 24, Akbar Road.
"It is an assault on the idea of India. The government is stopping our MPs from moving out of our office. PM needs to realise that there is limit to this," Rahul Gandhi said.
"China is sitting at the border and has snatched thousands of kilometres our land. But why does the PM not speak up on it? Why is he silent? He is making the country weak and outside forces are seeing it as an opportunity. The country is moving on a dangerous path and it will suffer," he claimed.
In the memorandum, the Congress claimed that 44 of them have so far lost their lives in the ongoing protests at various Delhi borders.
For her part, Priyanka Gandhi said the government was not ready to listen to farmers.
"It is a sin to brand farmers as anti-nationals. If the government is terming farmers protest as sedition, it is a sin," she told reporters.
"Any dissent against this government is classified as terror. The government is arrogant and has no respect for farmers or jawans, who are the sons of farmers," she alleged.
But union minister Choudhary maintained that the new agri-laws are good for farmers. "Rahul Gandhi doesn't want the agitation to stop. Congress cadre won't stop agitating but farmers will. We are interacting with farmers while Congress and other political parties are inciting them," he said.
On Priyanka Gandhi's remark that it is a "sin" to label farmers as terrorists, Choudhary said some elements are trying to vitiate the atmosphere. "This can't be overlooked," he said.
"We saw which flags were hoisted there. Even Maoists and communists and likes of Rahul Gandhi are trying to hijack the protest but they won't be successful," the minister said.