Fuel prices soar for 10th straight day, govt seeks long-term solution
Hindustan Times, New Delhi |
P Suchetana Ray
May 23, 2018 10:45 PM IST
After a 19-day hiatus in the run-up to the Karnataka polls, the price of petrol has increased by Rs 2.54 in the last 10 days, and that of diesel by Rs 2.41.
Wednesday marked the 10th day in a row that fuel prices rose, to Rs 77.17 a litre of petrol and Rs 68.34 a litre of diesel in the capital, but law and information technology (IT) minister Ravi Shankar Prasad said a long-term solution is being worked out to address the price volatility.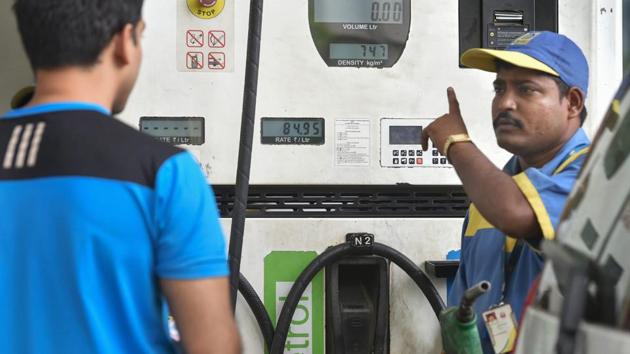 After a 19-day hiatus in the run-up to the Karnataka polls, the price of petrol has increased by Rs 2.54 in the last 10 days, and that of diesel by Rs 2.41. Consumers and opposition parties have been mounting pressure on the government to step in and provide relief from the rising prices.
Stay tuned with breaking news on HT Channel on Facebook.
Join Now
"The government is keen that instead of having an ad hoc measure, it may be desirable to have a long-term view which addresses not only the volatility but also the ambiguity arising out of frequent ups and downs," Prasad said.
In 2017, the government introduced the practice of daily price revision of fuel prices, which were previously fixed every fortnight based on the international crude price and the rupee's exchange rate.
The United Progressive Alliance government in 2010 deregulated the pricing of petrol. The National Democratic Alliance administration followed suit with diesel in 2014.
Analysts, consumers, and opposition parties have pointed out that the government hasn't passed on cuts in international fuel prices with the same alacrity with which it has raises. Indeed, the current government has increased duties on fuel when global prices of oil fell, and used the accruing revenue to shore up its own finances and reduce the deficit.
"Bonanza to central government is Rs 25 on every litre of petrol. This money rightfully belongs to the average consumer," former finance minister P Chidambaram tweeted.
He added: "Central government saves Rs 15 on every litre of petrol due to fall in crude oil prices. It also puts additional tax of Rs 10 on every litre of petrol".
The Indian government took advantage of a slide in the price of crude oil since November 2014 to shore up revenue by hiking excise duty on fuel nine times between November 2014 and January 2016. But in the face of surging crude price since December 2016, the government has slashed excise duty only once, by Rs 2 in October 2017.
Several oil marketing companies (OMCs) such as Indian Oil and Bharat Petroleum have suggested that petroleum products should be brought under GST. .
"There is need to review taxation on the fuel," Hindustan Petroleum chairman Mukesh Kumar Surana was quoted as saying by PTI on Wednesday.
The central government levies Rs 19.48 excise duty on a litre of petrol and Rs 15.33 on diesel. Local taxes and cesses vary from state to state.
Faced with mounting pressure, government sources have told HT that an excise duty cut is on the cards while discussions are on with OMCs to reimburse the dealers on their commission.
"The government should have a price target for fuel prices so that the taxes can be adjusted around it. And there should be stabilisation fund to protect the exchequer from fluctuations in revenue collection. But by launching ambitious welfare programmes based on revenue from higher duty, the government was being extremely hopeful that low international crude prices will be a long-term phenomenon," said Pronab Sen, former chief statistician of India.
Also read: Why state govts are reluctant to cut taxes on petroleum products