In Bhupendra Patel 2.0 cabinet, 16 ministers sworn in; only one woman | LIST
Dec 12, 2022 04:25 PM IST
Gujarat cabinet ministers list: At full strength the cabinet is expected to have around 25-28 names, with around 10-12 of cabinet rank and the others of ministers of state (MoS) rank.
Bhupendra Patel was sworn in as chief minister of Gujarat for a second term on Monday afternoon, with prime minister Narendra Modi union ministers Amit Shah, Smriti Irani, and Rajnath Singh, and leaders of states ruled by the Bharatiya Janata Party, or their allies, in attendance. The BJP claimed a landslide in the prime minister's state last week, claiming 156 of 182 seats.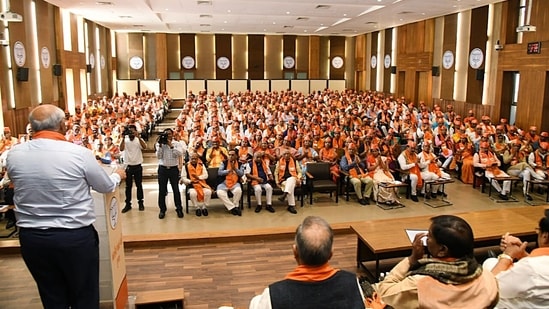 Apart from Bhupendra Patel, governor Acharya Devvrat also administered the oath to 16 newly elected MLAs who will from the chief minister's 2.0 cabinet.
Of the new ministers, there is only one woman - Bhanuben Babariya.
READ | Who is Bhanuben Babariya? Only woman in Gujarat cabinet 2.0
List of ministers sworn in today:
| | |
| --- | --- |
| Name | Constituency |
| Bachubhai Khabad | Devgadh Baria |
| Parshottam Solanki | Bhavnagar (rural) |
| Harsh Sanghavi | Majura |
| Jagdish Vishwakarma | Nikol |
| Rushikesh Patel | Visnagar |
| Raghavji Patel | Jamnagar (rural) |
| Balwantsinh Rajput | Sidhpur |
| Mukeshbhai Zinabhai Patel | Olpad |
| Kuvarjibhai Narshibhai Halpati | Mandvi (ST) |
| Kanubhai Desai | Pardi |
| Kuvarjibhai Bavaliya | Jasdan |
| Dr Kuber Dindor | Santrampur (ST) |
| Bhanuben Babariya | Rajkot (rural) (SC) |
| Mulubhai Bera | Khambalia |
| Bhikubhai Chatursinh Parmar | Modasa |
| Praful Panseria | Kamrej |
Bhupendra Patel replaced Vijay Rupani last year as the party sought to ward off anti-incumbency. The 60-year-old 'silent troubleshooter' led the BJP to a big win ahead of elections in other states in 2023 and the 2024 Lok Sabha election.
Full Coverage | 2022 Gujarat Assembly election
In winning its 156 seats, the BJP decimated the Congress (16) and debutants Aam Aadmi Party (five). Bhupendra Patel won Ghatlodia by 1.92 lakh votes.
READ | Bhupendra Patel to continue as Gujarat CM for 2nd term
The BJP has claimed an unprecedented seventh consecutive term in Gujarat.
READ | Bhupendra Patel: A veteran leader who has worn many hats
Who else could join chief minister Patel's new cabinet?
The final Patel 2.0 cabinet will be a mix of lawmakers from various caste and districts, sources said, indicating the BJP's attempts to keep communities that voted for it happy. It will finally have 25-28 ministers; 10-12 of cabinet rank.
New faces like Alpesh Thakor may be inducted later, a party functionary told Hindustan Times. Thakor is an OBC leader from Gandhinagar (south) who was the Congress MLA from Radhanpur when he quit to join the BJP in 2019.
Others who may be inducted later are former ministers like Shankar Chaudhary, (health), Purnesh Modi (roads and transport) and Jitu Vaghani (education).
With input from PTI