In IIT-Kanpur, students are upset over security 'overstepping' limit, allege harassment
Sep 08, 2017 04:56 PM IST
Students at IIT-Kanpur allege their freedom of movement is restrained as guards arbitrarily pick on them and threaten them with punitive action.
A number of complaints against security personnel over the past month have sparked tensions in IIT-Kanpur with students alleging that many guards were overstepping their limits in a campus known for freedom of movement and thought.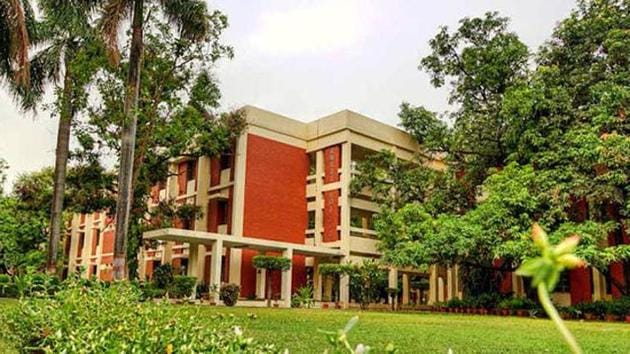 Students allege their freedom of movement inside the campus is restrained as guards arbitrarily pick on them and threaten them with punitive action. In some cases, students say they were called criminals and thieves, and faced harassment.
"Lots of students and recent alumni have written their experiences with security and the harassment they faced. Many have sent me emails," Dr Dheeraj Sanghi, professor of Computer Science at the institute, wrote on his blog. "Establishment of security raj on IIT Kanpur campus has followed the destruction of administrative mechanisms of maintaining discipline."
A final year student of electrical engineering alleged Deepu Philip, a professor and chairman of the Security Advisory and Executive Committee (SAEC) of IIT Kanpur, threatened to file an FIR for not carrying his ID card inside campus at 1.30am. HT's detailed email questionnaire to Philip went unanswered. In another incident, a female postgraduate student said she didn't feel safe in the hostel anymore because of the personal grudge a security officer developed against her.
Things came to a head on August 30 at a meeting to resolve the termination of a hostel contract, which had led to 72 workers losing their jobs. Dozens of security guards were stationed outside the hall and only those carrying identity cards were allowed. Guards even stopped an illustrious alumnus, Vaibhav Vaish, upsetting several members of the faculty. When the meeting ended, campus security called state police to question Vaish, who alleged in a letter that guards also threatened students and faculty.
Dr Manindra Agarwal, deputy director of IIT Kanpur, agreed the security crossed limits. "The event was organised as part of the sequence of agitations that were happening on campus due to worker layoffs. The security had even received outside advisory about possible disturbances. So the security was being very cautious but they clearly overstepped the line," he said.
Richeek Awasthi, an elected representative in the students' senate, said the incidents of alleged incidents had been reported to the authorities – but to no avail. Agarwal, the deputy director, also said he was aware of these incidents. The reason for the strengthening of security, he said, was the significant increase of criminal elements on the campus in the last few months. "There have been several cases of molestation, large scale thefts and an increased supply of drugs on the campus. So the security was actively empowered to address these issues."
But others don't agree. A professor who has taught at the institute for more than a decade said the security establishment took advantage of weak administrative machinery. "We don't know who is answerable to whom…the hapless victims have been our students."