India a stakeholder in the Korean peace process, says PM Modi
Jul 10, 2018 11:57 PM IST
Modi made an oblique reference to North Korea's linkages with Pakistan and hinted that this is a reason why India is a stakeholder in the peace process.
Prime Minister Narendra Modi on Tuesday said India is a stakeholder in the peace process in the Korean peninsula after his talks with South Korean President Moon Jae-in during which the two sides decided to step up their security and defence ties and work for capacity building in Afghanistan. They signed 11 pacts to expand business ties and more than double bilateral trade to $50 billion by 2030.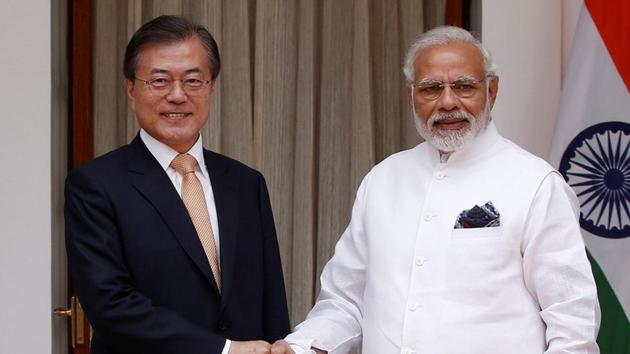 Modi made an oblique reference to North Korea's linkages with Pakistan and hinted that this is a reason why India is a stakeholder in the peace process.
"I told President Moon that proliferation linkages between North-East Asia and South Asia are a matter of concern to India. Therefore, India is also a stakeholder in the peace process. We will do our bit to ensure peace," Modi said.
India has been pressing for a probe into North's nuclear links with Pakistan and dem–anding that those responsible for it be held accountable.
Meanwhile, Moon apprised Modi about the prospect of denuclearisation of Korean Peninsula.
"There will be bumps and bruises on the road, but I am confident of the outcome," Indian ambassador to South Korea Vikram Doraiswami quoted Moon as having said about the talks with North Korea.
"He (Moon) said that it was moving in the right direction... (that), of course, there were challenges in the process, but overall his tone was very optimistic," secretary, east, in the MEA Preeti Saran said on President Moon's views on Korean denuclearisation talks during discussions with Modi.
Strategic affairs expert C Uday Bhaskar said, "The demand that a probe must be instituted to establish proliferation linkage between the AQ Khan network and North Korea is an old one. Countries such as China and the US have brushed it aside for long. This probe will help establish how these linkages helped North Korea to acquire weapons of mass destruction."
He added that South Korea is an economic powerhouse and has advanced technology in many sectors. "India should leverage this. Usually, we don't invest long term in such relationships. But we must do that."
The agreements signed between the two countries included pacts for speeding up negotiations to upgrade a 'comprehensive economic partnership agreement' that was signed in 2009.
The two sides also wanted to step up their cooperation in health care, railways, artificial intelligence telecommunications and cyber security.
"Going forward, I hope that more Korean companies will invest in India so that the foundation for mutual prosperity can be further expanded," Moon said.
Bilateral trade rose by nearly a quarter to $20.8 billion in the year ending 31 March, with $16.4 billion of that in favour of South Korea.
The two countries also agreed to explore tripartite partnership for development in third countries, beginning with capacity building programmes in Afghanistan.
India already has close ties with Afghanistan and is helping to rebuild the war-ravaged country and recently New Delhi and Beijing had decided to work in this area in Afghanistan.
Moon and Modi on Monday formally opened a new Samsung factory on the outskirts of Delhi which the company called the world's biggest mobile phone manufacturing plant.
In what could be seen as an apparent endorsement of Modi's electoral prospects in the 2019 general elections, Moon said he would eagerly await the Indian leader's visit to South Korea in 2020. Modi, in turn, credited Moon for South Korea's peace breakthrough with North Korea and offered India's support in taking that forward.
The two sides also released a vision document articulating ways to boost their strategic cooperation and reaffirming convergence of their views in dealing with maritime conflicts, in a clear reference to China's expansionist behaviour in critical sea lanes.
The vision document said the two leaders also reaffirmed that terrorism cannot be justified on any grounds and sought coordinated regional and global efforts to tackle it.
The Korean side also supported India's bid to become a member of the Nuclear Suppliers Group.
Referring to disputes in the maritime sphere, the vision document said both Modi and Moon recognised the link between prosperity and security and reaffirmed the importance of freedom of navigation, overflight and unimpeded lawful commerce.
"We supported initiatives for peaceful resolution of conflict through dialogue, underlying the centrality of sovereignty and territorial integrity, in accordance with the universally-recognised principles of international law," the document said.