'International Khiladi?': Tiger, Akshay, Anurag Thakur's 'Make-in-India' moment
Jan 27, 2023 09:34 PM IST
As Akshay Kumar said he believes in 'Aatmanirbhar' concept and will only do Indian films, Anurag Thakur, Tiger Shroff, Sajid Nadiawala burst into laughter.
Information and broadcasting minister Anurag Thakur was seen having a light moment with Bollywood actors Akshay Kumar and Tiger Shroff at the stage of the Shanghai Cooperation Organization film festival on Friday. In his speech, Anurag Thakur introduced Akshay Kumar as the 'bade miyan' and the 'khiladi' and as Akshay Kumar came on the stage, the minister asked for a big round of applause -- to show the world how India welcomes its film stars. Read | 'Shouldn't comment without info': Union Min on movies amid #boycottPathaan calls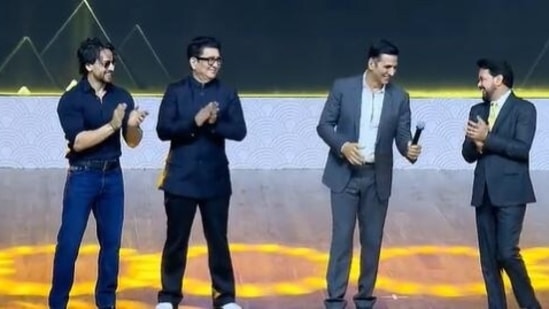 "We should not only become the world's largest film-producing country, but we also must be appreciating too," the minister said.
As Tiger Shroff came on the stage, Tiger was asked whether he would like to work in international films and said he looks up to international action heroes like Jackie Chan, Bruce Lee, Tom Cruise. "I do seek inspiration from them. That's why I do what I do in our beautiful film industry and I am very blessed to be accepted by the industry for what I do," Tiger said.
Taking a cue from Tiger's statement, Anurag Thakur darted a question to Akshay, "Tiger told about his dream to work in international films. Does our Khiladi too want to go international and become international Khiladi?"
"I believe in being Aatmanirbhar. I will do Indian films," Akshay Kumar said.
"See, today Make-in-India is going from local to global. There is nothing regional today. If your content is good, it does not stay regional," Anurag Thakur said.
The minister shared the video of their on-stage chitchat and appreciated Akshay Kumar's spirit of Aatmanirbhar Bharat.