Kailash Mansarovar yatra: 1,600 Indian pilgrims stranded after landslides, rains
Hindustan Times, Kathmandu and New Delhi |
Anil Giri and Jayanth Jacob
Jul 04, 2018 07:24 AM IST
At least two Kailash Mansarovar pilgrims died — one of possible high-altitude sickness and another of heart attack — and their bodies were airlifted by helicopter, officials said.
Almost 1,600 Indian pilgrims have been stranded in Nepal and Tibet while returning from the Kailash-Mansarovar Yatra after heavy rainfall over the past few days caused landslides and hampered rescue efforts, officials said on Tuesday.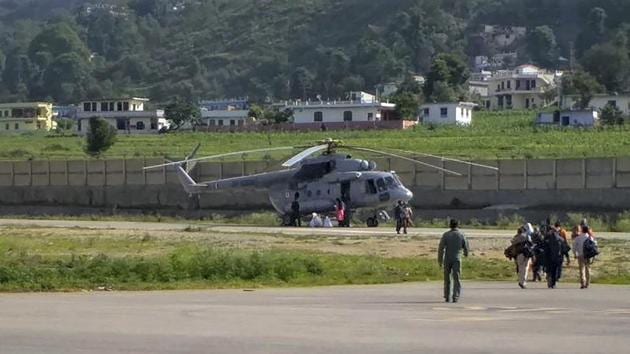 At least two pilgrims died — one of possible high-altitude sickness and another of heart attack — and their bodies were airlifted by helicopter, officials said. Inclement weather and difficulties associated with flying at altitudes of more than 3,000 metres continued to affect rescue efforts on Tuesday.
Stay tuned with breaking news on HT Channel on Facebook.
Join Now
About 600 Indian nationals were stranded at Simikot in western Nepal and another 350 in Hilsa, close to the border with Tibet, while some 500 to 700 more were stuck on the Tibetan side, said Pranav Ganesh, first secretary at the Indian embassy in Kathmandu, who is overseeing the rescue operation.
A total of 158 pilgrims were airlifted in nine commercial flights from Simikot to Nepalgunj, a city near the Indian border and a three-hour drive from Lucknow.
Another 200 pilgrims were moved from Hilsa to Simikot, the headquarters of Humla district that is comparatively safer.
"Besides two deaths on Monday and Tuesday, no major health risk has been reported. Food is available and the Nepal government has provided paramedical facilities to the pilgrims," Ganesh said.
The bodies of Leela Narayanan Mandredath of Kerala, who died in Simikot on Monday, of possible high altitude sickness, and Satya Lakshmi Narayana Subba Rao Grandhi Veera Venkata of Andhra Pradesh, who died of heart attack in Tibet, were airlifted by helicopter to Kathmandu and Nepalgunj respectively. Steps were being taken for repatriating the bodies to India, the Indian embassy said in a statement.
This is the largest rescue operation mounted in Nepal since the 2015 earthquakes. The three locations where the Indians are stranded are at an altitude of about 3,000 metres and the heavy downpours in Nepal since Monday have hampered efforts to airlift them.
Officials said the situation is currently under control and they expected all the pilgrims stranded in Nepal and Tibet to be evacuated over the next three to four days, provided the weather conditions improve.
"As soon as the weather clears, we will rescue them in helicopters and bring them to Nepalgunj," Ganesh said. Thousands of pilgrims use the Nepalgunj-Humla-Hilsa-Tibet route to travel to Kailash-Mansarovar as it is shorter and more affordable.
External affairs minister Sushma Swaraj tweeted that the Nepal government had been requested to provide army helicopters to evacuate the Indians. The Indian embassy has deployed representatives at Simikot and Nepalgunj to liaise with pilgrims and to ensure they have food and lodging, she said.
Health check-ups were done for all elderly pilgrims in Simikot and they were being provided medical help, while Nepalese police in Hilsa had been requested to provide assistance to the Indians, she said. Hotlines providing information in Tamil, Telugu, Kannada and Malayalam have been set up for the pilgrims and their families.
The Indian embassy has asked all tour operators to hold pilgrims back on the Tibetan side since medical and civic facilities in Nepal are inadequate, officials said. The operators were told to give priority to evacuating pilgrims from Hilsa, where the medical and communications infrastructure is inadequate.
The embassy is also looking at several alternatives for evacuating Indians from Simikot, including the use of three alternative routes though these appear to be as difficult as the Simikot-Nepalgunj route, officials said.
Weather conditions across Nepal have worsened since Monday morning following heavy rains that claimed at least a dozen lives.
Hundreds of Indian pilgrims travel to the 6,638-metre Mount Kailash, located near Mansarovar lake in China's Tibet Autonomous Region, every year via Nepal and Tibet. Hindu, Buddhist and Jain pilgrims believe circumambulating the holy mountain brings good fortune.