Kerala floods: Centre firm on no-aid policy but may allow funds under 'schemes'
Aug 23, 2018 09:30 AM IST
India may, however, not be averse to treating some offers as 'humanitarian aid or reconstruction plans under other schemes', the people indicated. The details of the schemes could be worked out later, the people added.
India is unlikely to change its 15-year-old policy of not accepting bilateral financial assistance for rescue and relief operations, an official familiar with the development said, even as a reported offer by the United Arab Emirates of Rs 700 crore for flood relief in Kerala has acquired political undertones.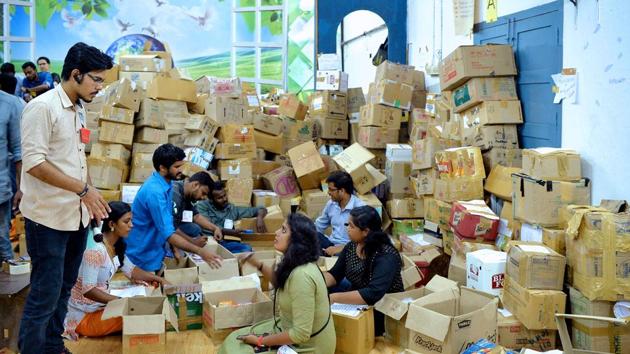 India may, however, not be averse to treating some offers as "humanitarian aid or reconstruction plans under other schemes", the people indicated. The details of the schemes could be worked out later, the people added.
Late on Tuesday, the crown prince of Abu Dhabi Mohammed bin Zayed bin Sultan Al-Nahyanon tweeted that he had spoken to Prime Minister Narendra Modi about the devastation caused by the floods in Kerala. "My sincere condolences to the families of the victims. We stand with the Indian people. Our relief and charitable institutions are helping with relief efforts," he had added.
The official cited above said Indian embassies have been told to "politely reiterate" to any host country that makes any offer of bilateral relief for the Kerala floods that it was against India's policy to accept such aid.
"Informally informed with regret that GOI (Government of India) is not accepting overseas donations for Kerala flood relief. Our hearts are with you people of Bharat," Chutintorn Gongsakdi, Thailand's envoy to India said in a tweet on Wednesday, indicating that Thailand had made a similar offer. He did not specify the amount that had been offered.
A second official explained that there are "norms laid down in practice" going back a decade-and-a-half on receiving for aid for relief. "GOI doesn't accept bilateral aid for relief. There are humanitarian aid, which is different from this, or certain projects that are taken up later with external funding in these areas. This is something on which the government takes an appropriate call at a later stage," said the official, who asked not to be named.
The national disaster management plan, adopted in May 2016, makes almost the same point.
"As a matter of policy, Government of India doesn't issue appeal for foreign assistance in the wake of a disaster. If the national government of another country voluntarily offers assistance as a goodwill gesture in solidarity with disaster victims, the Central government may accept the offer. The Ministry of Home Affairs, Government of India is required to coordinate with the Ministry of External Affairs (MEA), which is primarily responsible for reviewing foreign offers of assistance," a section of the plan reads.
Watch: Lucknow citizens 'Stand with Kerala', organise camps to collect funds
Congress leader AK Antony on Wednesday asked the Modi government to rewrite the rules so that financial support can come from abroad for flood-hit Kerala."If the rule was changed by the previous government, I have no qualms to say that the Modi government should rewrite it," Antony said.
"With the present rule, it may not be possible to accept the $100 million announced by the UAE government for Kerala. So change the rules," he said.
Former foreign secretary Lalit Mansingh, who was a joint secretary in the finance ministry and prepared a note in this regard at the time, said: "The policy of not receiving aid was deliberated in detail first when Jaswant Singh was the finance minister under the NDA government. It was like this — too many countries were offering small aid. All these aids came with stringent conditions and compliance and monitoring reports, and it was too cumbersome for the money that was coming in."
But, Mansingh asserted, there has always been a 'humanitarian assistance' discretion that the government can use in dealing with aid on a case-by-case basis.
Late on Wednesday night, in the wake of the offers, the MEA spokesperson said India deeply appreciated offers from several countries, including from foreign governments, to assist in relief and rehabilitation efforts after the tragic floods. "In line with the existing policy, the Government is committed to meeting the requirements for relief and rehabilitation through domestic efforts. Contributions to the Prime Minister's Relief Fund and the Chief Minister's Relief Fund from NRIs, PIOs and international entities such as foundations would, however, be welcome."
Exciting news! Hindustan Times is now on WhatsApp Channels
Subscribe today by clicking the link and stay updated with the latest news!"
Click here!
Get
Latest India News
along with
Latest News
and
Top Headlines
from India and around the world