Around the world for diplomacy: Modi ministers target to visit 192 nations
Jul 10, 2018 09:34 AM IST
Three more countries remain in the list of 192 member states of the UN to which the NDA government wanted to send a minister.
On June 1, minister of state for health, Ashwini Kumar Choubey, became the first Indian minister ever to visit Tuvalu, the Pacific island nation of 11, 200 people, making it the 189th country visited by a minister of the NDA government under the Brihad Sampark Yojana: Target 192, launched in 2015.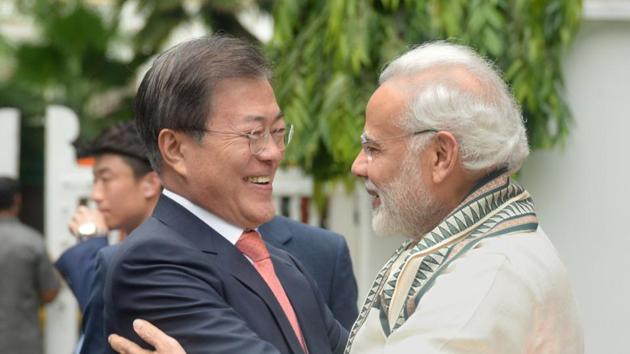 Size doesn't always matter much in diplomacy. Tuvalu became independent in 1978, and is only four metres above the sea level at its highest point. It was among the 34 co-sponsors of a G4 (India, Japan, Germany and Brazil) draft resolution that suggested reforms of the United Nations way back in 2005.
After Tuvalu, three more countries remain in the list of 192 member states of the United Nations (out of 193, one is India) to which the NDA government wanted to send a minister. A trip to Marshall Islands, by Upendra Kushwaha, minister of state for human resource development, is scheduled for later this month.
That leaves out two countries, where visits are being planned; both are in the same region as Tuvalu, Kiribati and Micronesia.
"We have just got two more countries to cover after the July visit to Marshall Islands for which the details are being worked out. After July, we will have Kiribati and Micronesia left to cover. It's something that kept us on toes as this initiative has frequent reviews by external affairs minister Sushma Swaraj," said an official involved in the outreach effort who asked not to be identified.
At the first head of mission meeting after Swaraj took over as external affairs minister in 2014, some envoys told the minister that they were posted in countries that had never seen a ministerial visit. Swaraj has said that it was this disclosure that prompted the initiative.
The Brihad Sampark Yojana is meant to ensure a ministerial visit to each of the 192 countries. "If you want to be a global player and a global power you need to reach out to all parts of the world. Engagement at political level is important, however small some countries might be, because all of them carry one vote at the United Nations," said former foreign secretary, Lalit Mansingh.
In Tulavu, Choubey met home minister Namoliki Sualiki Neemia, and also handed over a cheque of $50,000 to Tuvalu as a development partnership assistance, and invited Prime minister Enele Sopoaga to India.
Every minister has done his bit: Piyush Goyal visited Solomon islands and Vanuatu; Suresh Prabhu travelled to Albania, Bosnia and Herzegovina and Panama; Nirmala Sitaraman went to Croatia; Ravi Shankar Prasad visited Latvia and Estonia; and Mukhtar Ababas Naqvi visited Gambia.