Kumar Vishwas calls for AAP 'version-2', wants estranged leaders back in party
Dec 03, 2017 08:55 PM IST
The poet-politician says the party is drifting away from its core values
Aam Aadmi Party leader Kumar Vishwas on Sunday called for creating a "version-2" of the party by reuniting with those who had left the outfit, and reiterated that it was moving away from its core values.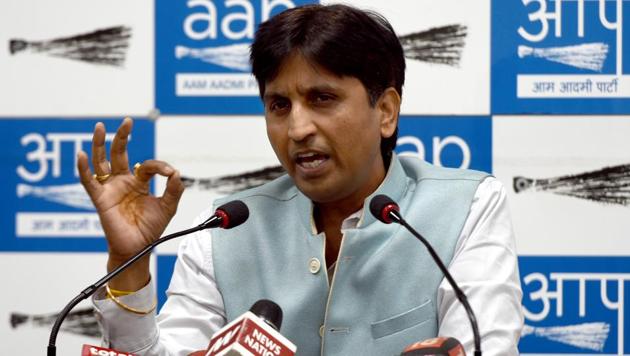 The AAP should work towards that version where all those who had left the party should come together and start working on the core values set five years ago, he said after addressing a gathering of party workers.
The poet-politician, who has been at loggerheads with the party's top leadership, said he would travel across the country and meet oldest volunteers for the purpose.
"I wish to get all those who were part of the anti-corruption movement and left us due to various reasons back in the party," he said after the meeting at the party headquarters in New Delhi.
No other senior leader of the party attended the event
He claimed to have met 36 groups drawn from assembly constituencies of Delhi and other states in the meeting that started at 12noon amid heavy security, comprising police and paramilitary forces.
Elaborating on his proposed new version for the party, Vishwas, one of the founders of the AAP, said the party desperately needed an 'anti-virus' to again emerge as a strong political alternative to challenge the BJP and the Congress.
He said he has been raising the concern of party deviating from its core values within the party platforms for the past six months and has now realised that he should meet people more frequently.
"Over five lakh people would attend our anti-corruption rallies in 2011-12. And there were not even 5000 people in the national convention held recently. This is where we need to introspect," he said, referring to the party's convention on November 26 where he had attacked the party for 'drifting away' from its vision.
"The Centre is hatching conspiracies against the party which is doing so well in Delhi. We have to come together and face all the challenges," said Vishwas suggesting estranged leaders such as Prashant Bhushan and Yogendra Yadav should be approached to join the party again.
"Anyone sacked legally can be brought back after following proper procedure. If someone has not joined or floated a political party we can bring them back. There is a long list. Anjali Damania, Mayank Gandhi, Prashan Bhushan..." he said.
Vishwas, the Rajasthan in-charge of the party, has been at odds with the top leadership after suspended MLA Amanatullah Khan was reinstated in the party in October this year.
Khan, the Okhla MLA was suspended over his tirade against Vishwas in May this year.
"A communal MLA made allegations against me. He was sacked and reinstated overnight. This is not how a party works," he said.
Vishwas said that party's national convenor and his 'friend' Arvind Kejriwal will support his suggestions.
"He is my leader and I know he has supported me when I raised the issue at the national convention," he said.
When asked about why no other party leader was present at the Sunday's event, Vishwas said, "Every leader has his own responsibility."
An AAP spokesperson commenting on Vishwas's move said, "Any leader was well within his/her right to meet people."
"It is always good for party leaders to meet workers. It strengthens the party. We have been introspecting on a daily basis," said AAP spokesperson Saurabh Bhardwaj.
Vishwas apologises for abusive audio clip
Vishwas, meanwhile, apologised for using 'un-parliamentary' language in an audio clip circulated on social media in which he was heard lashing out at party leadership for allegedly sidelining him.
"Yes, I was angry and I vented out my frustration. I apologise for the language and if it has hurt anyone," Vishwas said, acknowledging that it was his voice in the 25-second audio clip leaked on Wednesday.
In the clip he was heard complaining that he was not given any post despite being the founder member of the party along with Delhi chief minister Arvind Kejriwal and deputy chief minister Manish Sisodia.
He was further heard saying that three leaders made the party. Of them one became chief minister another deputy chief minister while the third (referring to himself) was left with nothing.
Vishwas said the audio was recorded six months ago.