Limited influence of farm stir helped BJP secure UP prospects
Mar 12, 2022 12:06 AM IST
Farm leaders said they felt they made a difference by bolstering the opposition's tally and raising the main challenger Samajwadi Party's vote share by nearly 10 percentage points.
An unprecedented 13-month-long farmers' uprising, which forced the Modi government to roll back a set of agricultural laws, did little to hurt the Bharatiya Janata Party (BJP) in the Uttar Pradesh state polls because its sphere of influence was limited to a few pockets and rural voters outside these belts were not swayed by farm issues, several analysts said a day after Thursday's results.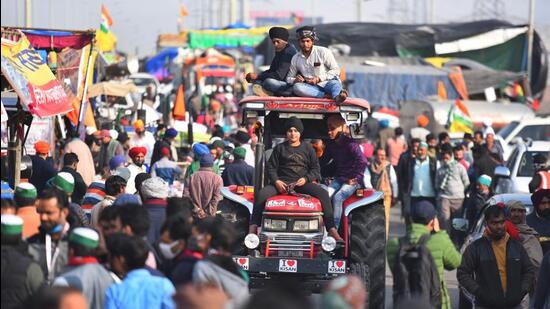 Still, farm leaders said they felt they made a difference by bolstering the opposition's tally and raising the main challenger Samajwadi Party's vote share by nearly 10 percentage points. Some farm leaders acknowledged they overestimated their reach.
The feisty farmers' agitation in 2021 against three federal laws aimed at greater private participation in agricultural markets appeared menacing for the BJP at its peak. Its leaders openly called for a defeat of the BJP in UP through 'vote ki chote' ('injure the BJP at the ballots').
Faced with widespread discontent, Prime Minister Narendra Modi cancelled the laws in December 2021. That decision neutralised the potency of the farmers' agitation a great deal, analysts say.
"There was a sense that the primary goal of the agitation was achieved and many farmers went back satisfied as the protests were called off," said Ramandeep Singh Mann, a former engineer and a farm activist.
The farmers' agitation wielded electoral influence only in a few pockets, not enough to unseat the BJP, a tall order.
"There was an organic build-up of support among farmers against the BJP in the sugarcane belt (western Uttar Pradesh) but not in other areas like the aloo (potato-growing) belts as well as eastern UP," said Nakul Singh Sawhney, a film-maker who makes documentaries on Uttar Pradesh's politics, including the acclaimed "Muzaffanagar Baki Hai".
Farm leaders however said their agitation was not entirely fruitless. The three western UP districts that saw the heaviest participation IN the farmers' agitation – Muzaffarnagar, Shamli and Baghpat – have 12 seats in all and the BJP won only three.
Sawhney attributes the farmers' agitation for a diminished total tally of the BJP and also the defeat of prominent poster boys of Hindutva politics in western UP, such as Sangeet Som (lost from Sardhana), Suresh Kumar (Thana Bhawan), Umesh Malik (Budhana).
Western Uttar Pradesh is a sugarcane belt dominated by Jats, a landed agrarian community. Influential farm leader Rakesh Tikait, a key campaigner against the BJP, belongs to the Baliyan khap, a dominant clan among the Jats who previously voted overwhelmingly for the BJP.
"In the whole of western UP, our expectation was RLD would win 21-22 seats, but it won eight," Mann said. The Mayawati-led Bahujan Samaj Party (BSP), whose main support base is primarily among lower-caste voters, played a "spoiler" by not transferring its vote share to RLD, he said.
Political workers on the ground point to another twist in the alliance between Samajwadi Party and RLD.
"Akhilesh Yadav initially said he wanted to sweep western UP through the Jayant Choudhary-led RLD by giving the latter an upper hand. When it came to seat-sharing, Akhilesh backtracked, cutting down RLD's seats," an RLD worker said, requesting anonymity.
Some candidates in western UP who contested on RLD tickets were known Samajwadi Party leaders and "forcibly foisted" by Akhilesh Yadav, the person quoted above said. "This disheartened our voters."
Yogendra Yadav, the leader of Swaraj India and a prominent face of the farmers' agitation, said voters by and large were swayed by the BJP's "polarising campaign". "Basically, the BJP has developed a deep and enduring cultural connect that covers Muslim hatred with nationalism and cultural self-respect," Yadav said.
In its campaign, the BJP played up its strong crackdown on criminal activities and free food handouts, despite a catastrophic handling of the Covid pandemic. But it also relied heavily on its signature Hindu nationalist appeal, calling the elections an "80-20" fight, a reference to a Hindu majority versus Muslim minority.
Mann appears a little unsure of the road ahead for the farmers' movement for pending demands, including a legal guarantee of prices for farm produce. "It can take more than two years and a lot of hard work to re-mobilise the movement. Let's see".