Rio win to Kashmir loss: Highlights of PM Modi's Mann ki Baat
Aug 28, 2016 12:01 PM IST
Prime Minister Narendra Modi is addressing the nation through his monthly programme 'Mann Ki Baat'.

Prime Minister Narendra Modi addressed the nation through his monthly programme 'Mann ki Baat' on Sunday.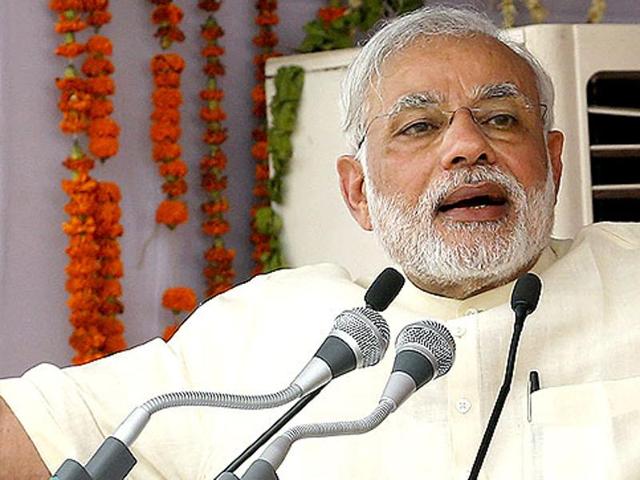 In his 23rd edition of the programme, Prime Minister lauded the achievers in Rio Games, saying we must improve for future Olympic Games. The PM also spoke on various other issues, from cleanliness in schools and villages to Teacher's day and Ganeshotsav celebrations, ideas for which he had earlier sought from people on the Narendra Modi App and MyGov Open Forum.
Below are the updates from his address on Sunday:
* 11.34am: Those who are trying to disrupt peace in Kashmir will have to answer the innocent children of Kashmir.
I believe "Ekta aur Mamata" -- unity and motherhood -- is the solution to the problem. Everyone, right from the head of the village to the head of the country, believes that no matter who dies in Kashmir, whether a youth or a policeman, it is India's loss.
* 11.30am: All parties get the credit for GST Bill; it shows what one can achieve with a united effort towards one specific goal. Similarly, all the parties came together for Kashmir and sent out a strong message to the world.
* 11.28am: Students of 1,700 schools in Chhattisgarh wrote to their parents urging them to construct toilets in their homes. Some even asked for a toilet as their birthday gift.
A 16-year-old girl launched a Satyagraha, gave up food, demanding a toilet in her home in Karnataka. I congratulate this sense of need for cleanliness.
I appeal everyone to make a short documentary/ film on Clean India. The best of the entries will be awarded on October 2, on Mahatma Gandhi's birth anniversary.
* 11.24am: The floods have wreaked havoc across north India. The flood problem is serious.
Some states through which river Ganga flows have undertaken the task to protect its masses hit by the floods. Also, I congratulate all the chief ministers of the states for contributing their bit for the Clean Ganga mission.
* 11.22am: Mother Teresa's canonisation as saint to happen on September 4th. Her life was dedicated to work for the poor. I pay my tributes to her. A delegation led by Sushma Swaraj will be headed to witness the historic event.
*11.19am: Ahead of Ganesh festival, PM Modi pays tribute to Lokmanya Tilak: I request everyone to refrain from making and worshipping Ganesh idols made from Plaster of Paris. It harms the environment. Make it a point to use only clay idols and protect.
* 11.15am: Upload pictures with your teachers on NarendraModiApp to celebrate Teacher's day. Also share any incident or a story about your teacher that inspires you.
* 11.12am: Remembering Dr Sarvapalli Radhakrishnan ahead of his birth anniversary on Sept 5, PM Modi pays respects to all his teachers. He says, "My handwriting is very bad, but even at the age of 90, a teacher of mine has a better handwriting. Handwriting adds immense respect to one's personality."
* 11.08am: When asked by a citizen on myGov app if India's performance in Rio Games was satisfactory; PM Modi says "No, it wasn't. But I have constituted a team to improve our performance next time."
* 11.06am: I'm happy that girls from all over the country -- PV Sindhu from South India, Sakshi Malik from North and Dipa Karmakar from Northeast -- brought laurels for India. I was filled with pride to see these girls took the task of making the country proud in Rio Games on their shoulders.
* 11.04am: PM Modi remembers hockey legend Major Dhyanchand in his first Mann ki Baat address after Rio Olympics. He says it was delightful to see that Indians were so much excited for Olympic Games, glad to talk on this on heavy public demand.