Meet Sadhvi Kamal, 39-year-old gau rakshak inspired by Mother Teresa's social work
Apr 11, 2017 01:12 PM IST
Sadhvi Kamal, the 37-year-old head of the Rashtriya Mahila Gau Raksha Dal, is the new face of cow protection in India after forcing the closure of a hotel in Jaipur for allegedly serving beef
Sadhvi Kamal is always dressed in saffron, wears a long streak of vermillion on her forehead and insists that no one calls her madam.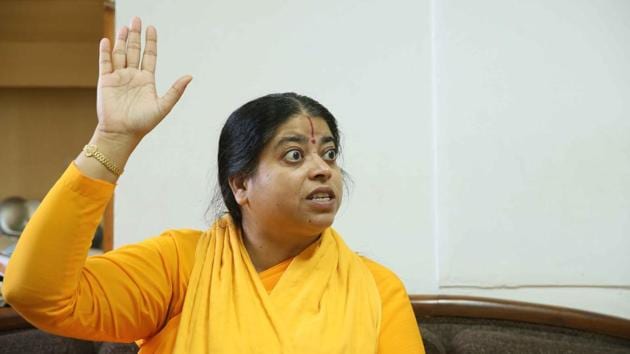 "Call me didi," she says.
Stay tuned with breaking news on HT Channel on Facebook.
Join Now
'Didi', a 39-year-old cancer survivor, was thrust into the spotlight recently after she forced the administration in Rajasthan's capital Jaipur, to seal a hotel for allegedly serving beef. The hotel is owned by a Muslim businessman.
But she has been an activist for a long time and heads the Rashtriya Mahila Gau Raksha Dal, a self-styled cow protection group that operates in three states – Rajasthan, Haryana and Uttar Pradesh. Cow slaughter is banned in the three states.
With 2,200-odd women – and an undisclosed number of men -- as members, Sadhvi Kamal is unperturbed by allegations of being the law unto herself and restoring to violence for her crusade.
"There are 13-14 police cases against me but police don't bother me with them. Cow smugglers register fake cases against gau bhakts," she says.
The Sadhvi's outfit is among many such fringe groups which became active after the BJP-led government under Prime Minister Narendra Modi took over at the Centre.
These groups claim to work for protecting cows from being taken to slaughter houses. Critics, however, accuse the vigilante groups of attacking people, mostly from the minority Muslim community, merely on suspicion.
The new chief minister of Uttar Pradesh Yogi Adityanath, a vocal advocate of cow protection, has flagged the issue again and has ordered a clampdown of cow smuggling and illegal slaughter houses.
Didi, who became a sadhvi at 12 years of age, says she's been a cow vigilante for two years and has rescued 583 cows.
"As a child, I was impressed by the social work done by Mother Teresa," she says, clarifying that she liked the founder of Missionaries of Charity "only for her social work and nothing else".
Born in Haryana, the Sadhvi grew up in Khetri in Jhunjhunu district of Rajasthan and apart from her recent role in the beef controversy in Jaipur, she also takes credit for a massive road jam in Choti Sadri in Pratapgarh district in June last year.
The traffic jam happened after a mob of around 150 people thrashed three alleged cow transporters and stripped one of them.
The Sadhvi moves around in an SUV, which she says is often driven by 'bacchas' of the Gau Rakshak Dal.
Despite being a women's organisation, it appears that women from her outfit are rarely seen at the time of intercepting trucks and other vehicles suspected of smuggling bovines for slaughter.
"Women play a significant role after the action takes place as they are good in calming the situation and help cows to rehabilitate in cow shelters. The men, on the other hand are good at intercepting vehicles," she adds.
She adds that cow smuggling is increasing every day.
"The hotel Hayat Rabbani in Jaipur is involved in various illegal activities including lodging Pakistani nationals illegally and employing child labourers. The locals from the area have also complained to me that every Sunday beef is served in the hotel," the Sadhvi says.
When asked about violence perpetrated by cow vigilantes such as the incident in Gujarat's Una last year when seven members of a Dalit family were beaten up by activists for skinning a dead cow, the Sadhvi says most of the reports are not entirely true.
"In most such cases it has been seen that the bovines which are skinned has been 'murdered' by lethal injections or sometimes by bludgeoning," the Sadhvi adds.
The Una incident had led to country-wide protests by Dalit activists last year and the Modi government was accused of not reigning in the vigilante groups.