Nomination of AAP's Rajya Sabha pick put on hold
Jan 07, 2018 01:15 PM IST
The nomination of AAP's Rajya Sabha candidate, Narain Dass Gupta, was held back by the returning officer after the Congress filed a complaint against him, alleging Gupta held an office of profit
The nomination of AAP's Rajya Sabha candidate, Narain Dass Gupta, was held back by the returning officer after the Congress filed a complaint against him, alleging Gupta held an office of profit.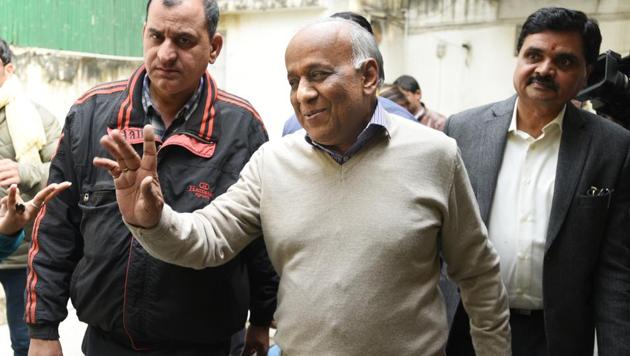 The AAP dismissed the charge, saying the Congress was trying to gain 'cheap publicity' and said the law doesn't bar trustees from contesting.
Stay tuned with breaking news on HT Channel on Facebook.
Join Now
The objection was filed by Congress's Delhi chief, Ajay Maken, with the returning officer (district magistrate, central) claimed that Gupta was ineligible for candidature as he holds the office of a trustee of the government-owned National Pension System Trust.
AAP claimed Gupta had resigned from the post before filing his nomination.
"He (Narain Dass Gupta) was appointed as a trustee of government-owned ₹1.75 lakh crore National Pension Scheme Trust. He still holds this office of profit as on date and is ineligible to contest," Maken said in the complaint filed on the day of scrutiny of the Rajya Sabha candidates.
Returning officer Nidhi-Srivastava said the matter has been deferred till Monday.
Gupta, along with Sanjay Singh and Sushil Gupta, two other Rajya Sabha candidates of AAP, had filed nomination papers for the Upper house on January 4. Maken said Gupta's nomination was liable to be rejected under Section 36 of Representation of Peoples Act, 1951, read with Article 102 of the Constitution.
The elections for three Rajya Sabha members from Delhi are scheduled on January 16 as terms of the incumbent members, Dr Karan Singh, Janardan Dwivedi and Parvez Hashmi — all from Congress — expire on January 27.
In his response, Gupta said he has resigned from the trust last year. Soon after the response, Congress filed a supplementary complaint in which it alleged that Gupta held the office of the chairman of the Audit Committee of the National Pension System Trust having a corpus of ₹1.75 crore.
"The returning officer has issued a fresh notice to ND Gupta seeking as to why his nomination shouldn't be cancelled," said Aman Panwar of Delhi Congress' legal cell. In case the nomination is cancelled, there will be a by-election in a months time.
AAP spokesperson Raghav Chadha rejected Maken's allegation accusing Congress of trying to gain "cheap publicity" through "frivolous" objections as the law exempts trustees in the office of the profit category bar. "Section 3, clause (L) of Parliament (Prevention of Disqualification) Act, 1959, gives exemption to trustee from disqualification under office of profit," Chadha tweeted.
Constitutional expert Subhash C Kashyap said the onus was on the AAP now. "There is a list of cases which are exempted from office of the profit as mentioned in Parliament (Prevention of Disqualification) Act, 1959. If AAP can prove that the trustee is exempted, the objections stands rejected," said Kashyap, the former secretary general of Lok Sabha.