On Pompeo's 'Sushma Swaraj was not important', former Pak ambassador's 'no'
Jan 27, 2023 06:32 PM IST
"I have met Sushma Swaraj several times and she was a great nationalist and robust speaker," former Pakistan ambassador Abdul Basit said commenting on Mike Pompeo's observation on late Sushma Swaraj.
Former Pakistani diplomat Abdul Basit reacted to the claims of former US secretary Mike Pompeo in his book Never Give an Inch: Fighting for the America I Love' and said he does not agree with what Pompeo said about former Indian foreign minister Sushma Swaraj. Pompeo in his book wrote his original counterpart was Sushma Swaraj but she was not an important political player on the Indian foreign policy team, a comment that has been slammed by foreign minister S Jaishankar.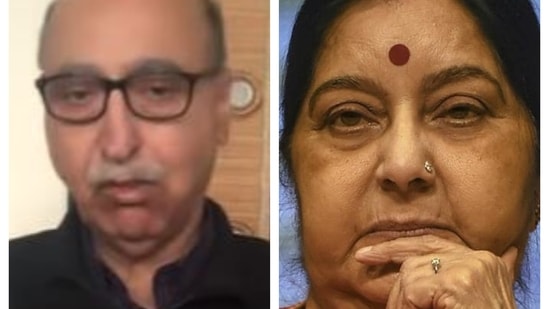 In his YouTube channel, Abdul Basit said, "It does not behove Mike Pompeo to say something like this on late Sushma Swaraj. I met Sushma Swaraj several times. She was a great nationalist and a great speaker in Parliament and intellectually sound. By making such comments, Mike Pompeo revealed himself only. He said similar things about Hamid Karzai and Ashraf Ghani. You can not agree with their politics but calling names is deplorable."
On Mike Pompeo's claim that India and Pakistan were very close to a nuclear war in 2019, Abdul Basit said, "It is very difficult to believe in what he wrote but then books are written in such a way that they get sold."
Mike Pompeo, as he claimed in his book, was made aware that both India and Pakistan were preparing for a nuclear war, Basit said. "I am aware of Pakistan's threshold and what he claimed is false. I hope India also rubbishes this claim," Basit added.
Recounting his equation with his counterparts from India, Mike Pompeo praised Jaishankar and said he had hit it off with Jaishankar immediately they met. In comparison, his equation with Sushma Swaraj was not so great, he implied as he wrote, "On the Indian side, my original counterpart was not an important player on the Indian foreign policy team. Instead, I worked much more closely with National Security Advisor Ajit Doval, a close and trusted confidant of Prime Minister Narendra Modi."
"My second Indian counterpart was Subrahmanyam Jaishankar. In May 2019, we welcomed "J" as India's new foreign minister. I could not have asked for a better counterpart. I love this guy. English is one of the seven languages he speaks, and his is somewhat better than mine," Pompeo wrote on Jaishankar.
"He (Jaishankar) said that he could see why I had trouble with his predecessor, a goofball and a heartland political hack. "Careful, I'm a heartland political hack!" I replied in jest. He laughed, noting that if that were true, it would make me the first heartland political hack who had ever been an editor on the Harvard Law Review. Well played, J (Jaishankar)," Pompeo wrote.