Pendency of 50-year-old cases high in HCs; Calcutta leads with 1,192: Law minister
Feb 03, 2023 08:44 AM IST
Stating figures of cases pending for over 50 years, law minister Kiren Rijiju said that 1,514 civil and criminal cases are lying unaddressed in 10 high courts
Pending cases dating, some more than 50 years old, exist more in high courts than the district courts, Union law minister Kiren Rijiju told the Parliament on Thursday, indicating that the Centre has no role to play in bringing down the pendency of cases as the solution to that lies within the domain of the judiciary.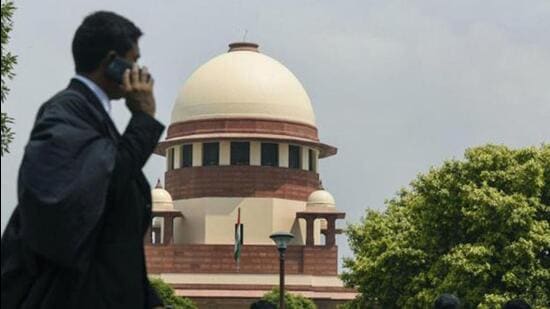 Replying to a question in Parliament, Rijiju said, "The disposal of pending cases in courts lies within the domain of the judiciary and the Central government has no role in the matter."
Stating figures of cases pending for over 50 years, he said that 1,514 civil and criminal cases are pending in 10 high courts, while such cases in district and subordinate courts stood at 1,390. These figures were obtained from the National Judicial Data Grid as last updated on January 31.
Among the high courts, Calcutta high court alone had 1,192 cases pending, followed by the Delhi high court with 133, the Madras HC with 129 and the Bombay HC with 43. The remaining six high courts on the list of over 50-year-old cases had negligible figures, ranging from 1-5, including high courts at Patna, Gauhati, Punjab and Haryana, Uttarakhand, Kerala and Odisha.
However, Rijiju said that no case of over 50 years was pending in the Supreme Court though the top court has 81 cases that are over 25 years old.
The law ministry also furnished corresponding figures of cases that are pending for over 25 years old in high courts (124,810) and district courts (276,208), and stated that for expediting disposal of these cases, the SC exhorts high courts and subordinate courts through judgments, orders and directives.
Also Read:Case pendency in HCs, district courts highest this year: Govt in LS
Responding to another question on the contentious issue of long vacations in Supreme Court and plans for increasing working hours or working days for courts, the ministry categorically denied having any role to play in this regard. "The number of working hours, working days and vacations of the courts are prescribed as per rules framed by the respective courts," the ministry's written response in Rajya Sabha stated.
On an average, the Supreme Court works for 222 days in a year, the statement said, adding, "There is no proposal at present to increase the number of working days or working hours of the Supreme Court."
The ministry also informed the Parliament that the assessment for required number of judges for subordinate courts is not undertaken by the central government. At present, there are 25,077 sanctioned posts of judges in district and subordinate courts, of which 19,310 are operations, while 5,767 are vacant. A case with regard to filling up judicial vacancies in district courts is pending consideration before the Supreme Court.