PM Narendra Modi stresses on regional connectivity at Bimstec summit
Hindustan Times, Kathmandu |
Jayanth Jacob and Anil Giri
Aug 30, 2018 09:45 PM IST
Bimstec leaders agreed to enhance counter-terror cooperation and to hold a meeting of their home ministers to discuss related issues.
Prime Minister Narendra Modi on Thursday unveiled specific commitments to reiterate his vision of the Bay of Bengal as an interconnected region that sits at the confluence of his government's two key foreign policy priorities: neighbourhood first and the Act East policy.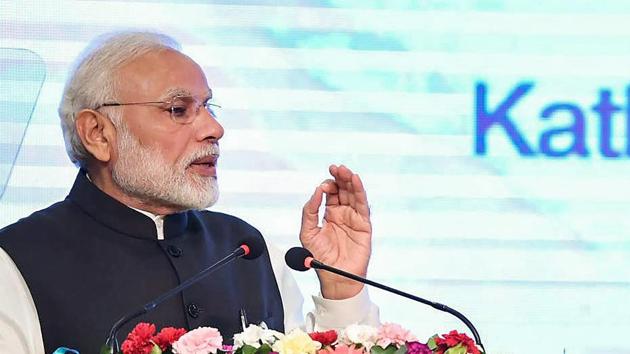 Addressing his first Bimstec (Bay of Bengal Initiative for Multi-Sectoral Technical and Economic Cooperation) summit, Modi said: "I believe there is a big opportunity for connectivity — trade connectivity, economic connectivity, transport connectivity, digital connectivity and people-to-people connectivity."
The Bimstec leaders also agreed to enhance counter-terror cooperation and to hold a meeting of their home ministers to discuss related issues. "There is no nation that is not affected by terrorism and its network," Modi said.
Modi's views were echoed by other leaders of the 21-year-old grouping of seven states that accounts for 22% of the world population, with the chair of the summit, Nepal Prime Minister KP Sharma Oli, saying that "connectivity is key for robust regional cooperation".
Oli also said the South Asian Association for Regional Cooperation (Saarc) and Bimstec "don't substitute, but complement each other".
Taking the podium after the leaders of Nepal, Bangladesh and Bhutan, Modi emphasised the importance of the grouping for India, and announced several commitments aimed at boosting regional connectivity and bringing together the grouping's members for their shared interests.
They included a Bimstec start-up conclave, hosting a ministerial of the grouping coinciding with the Indian mobile congress with the theme "New Digital Horizons Connect, Create, Innovate", which New Delhi will hold later this year to build on innovative ideas, and a hackathon for youngsters of the region on blue economy.
"We not only have diplomatic relations with all Bimstec countries but are strongly connected by civilisation, history, art, language, cuisine and shared culture," Modi said, as he went on to announce 142 scholarships for students from the Bimstec region, measures to step up disaster management cooperation, and a Bimstec women parliamentarians group to discuss gender equality.
"To facilitate research on art, culture and other subjects in the Bay of Bengal, we will also set up a Centre for Bay of Bengal Studies at Nalanda University," he said.
Modi had hosted Bimstec leaders for an outreach retreat in Goa two years ago, and he invited them to attend a "Buddhist conclave" India is hosting in August 2020 as special invitees.
In her address, Bangladesh Prime Minister Sheikh Hasina said her country will not allow "its soil to be used for terrorist activities" against any neighbouring country.
Referring to the move to enhance counter-terror cooperation, foreign secretary, Vijay Gokhale, later said: "Peace and stability are essential for economic growth and the home ministers meeting and the existing mechanism of the national security advisers' meeting shows the importance of this issue."
Explaining the foreign policy framework of Bimstec, Gokhale said the grouping serves as a link between South Asia and Southeast Asia. India's emphasis on "neighbourhood first" and its Act East policy, which is also aimed at developing the northeastern states, fits in with New Delhi's vision for deepening ties with the grouping, he said.
The fourth summit of the grouping, founded in 1997, began in Kathmandu on Thursday. It is focused on ways to strengthen Bimstec through various means, including framing a charter for the grouping and ensuring follow-up mechanisms for commitments announced by leaders in earlier meetings.
On the margins of the summit, Modi on Thursday met Bangladesh Prime Minister Sheikh Hasina and Sri Lankan President Maithripala Sirisena.
With the Saarc process almost defunct, India is giving a greater push to Bimstec.
"For India, Bimstec fits in well with its Act East policy and India's natural strategic framework is much broader. Compared to Bimstec, Saarc tries to box India into a narrow region," said strategic affairs expert Brahma Chellany.