Pompeo says Sushma Swaraj was not important; Jaishankar hits back
Updated on Jan 25, 2023 05:48 PM IST
Mike Pompeo in his book praised Jaishankar, his second Indian counterpart. Jaishankar however slammed Pompeo's statement on Sushma Swaraj that she was not an important political player.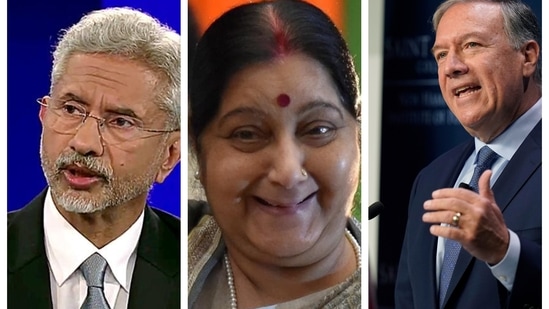 Foreign minister S Jaishankar has reacted to the comment of former US Secretary of State Mike Pompeo that he never considered Sushma Swaraj as an 'important political player', and slammed the disrespect. Pompeo made this comment on former foreign minister Sushma Swaraj in his book 'Never Give an Inch: Fighting for the America I Love' which is in the news for another explosive claim -- that India and Pakistan were 'this close' to a Nuke war after Pulwama in 2019.
As reported by PTI, Pompeo in his book mentioned Jaishankar and NSA Ajit Doval where he wrote about his equation with his Indian counterparts. And those mentions came with an aspersion against Sushma Swaraj. "On the Indian side, my original counterpart was not an important player on the Indian foreign policy team. Instead, I worked much more closely with National Security Advisor Ajit Doval, a close and trusted confidant of Prime Minister Narendra Modi," he wrote in his book. Pompeo even went to the extent of describing Sushma Swaraj as "goofball" and "heartland political hack". "He (Jaishankar) said that he could see why I had trouble with his predecessor, a goofball and a heartland political hack," the sentence read.
Expressing his love for 'J' which stands for Jaishankar, Pompeo wrote, "My second Indian counterpart was Subrahmanyam Jaishankar. In May 2019, we welcomed "J" as India's new foreign minister. I could not have asked for a better counterpart. I love this guy. English is one of the seven languages he speaks, and his is somewhat better than mine."
"I have seen a passage in Secretary Pompeo's book referring to Smt Sushma Swaraj ji. I always held her in great esteem and had an exceptionally close and warm relationship with her. I deplore the disrespectful colloquialism used for her," Jaishankar said reacting to Pompeo's statement on Sushma Swaraj.
(With PTI inputs)