Punjab CM-elect Mann resigns as Lok Sabha MP
Mar 15, 2022 05:58 AM IST
Mann, 48, was AAP MP from Sangrur for seven years and 10 months.He was AAP's lone MP in the Lok Sabha.
With two days to go for Punjab chief minister-elect Bhagwant Mann's swearing in, the leader — sporting his trademark yellow turban — tendered his resignation to Lok Sabha speaker Om Birla in the latter's office on Monday.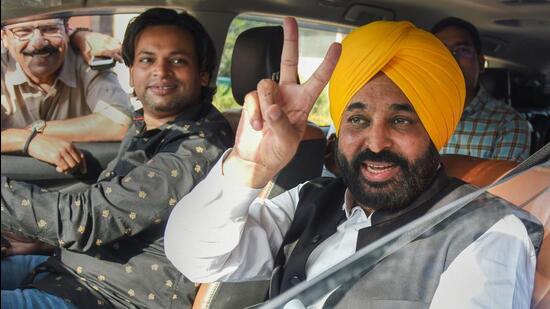 In a disappointment to scores of his supporters, Mann's resignation took place outside the Lower House because of which the Aam Aadmi Party (AAP) leader from Punjab, who is otherwise known for his funny and satirical speeches in the Parliament, could not deliver a farewell speech.
Mann, 48, was AAP MP from Sangrur for seven years and 10 months.He was AAP's lone MP in the Lok Sabha.
Before entering the Parliament, Mann told reporters that soon a "bold voice" will replace him in the Lok Sabha. "I will miss this House. Punjab has given me huge responsibility. But I promise the people of Sangrur that a bold voice will echo in the House soon. I thank people who trusted and voted for their son," he said.
Cutting across party lines, politicos, including Congress' Shashi Tharoor and Biju Janata Dal's Bhartruhari Mahtab got photos clicked with the CM-elect and posted on social media. Tharoor tweeted a picture with Mann on Monday with the caption: "Parliamentary camaraderie: many Congress MPs came up to Bhagwant Mann to congratulate him on his election victory and appointment as CM. I had the pleasure of sharing his joy after five years of being seated in the same bench in the Lok Sabha in the previous term."
Mann will take oath on Wednesday at freedom fighter Bhagat Singh's village, Khatkar Kalan in Punjab. Delhi chief minister and AAP national convener Arvind Kejriwal along with several other leaders will also be present during the occasion.
On Monday morning he tweeted a video where he invited the 30 million people of Punjab to his swearing-in ceremony and urged everyone to take the CM oath with him.
In the video tweeted by Mann, he said: "The oath taking ceremony will take place on March 16 in Khatkar Kalan. Not just me, the state's three crore plus population will take oath with me. We will together carry forward the legacy of freedom fighter Bhagat Singh. I won't be taking the oath alone. All of you will take the CM's oath. This will be your government," he said.
He asked the women to wear saffron dupattas and men to wear saffron turbans. Saffron holds a religious significance for the Sikh community. "We will paint Khatkar Kalan saffron that day," Mann said.
The AAP scored a landslide victory in the Punjab Assembly elections winning 92 out of 117 seats, that saw many giants like former chief minister Amarinder Singh, incumbent chief minister Charanjit Singh Channi and Congress state chief Navjot Singh Sidhu lose. Mann, who was contesting from Dhuri assembly constituency in Sangrur district, won by a margin of over 58,000 votes over Congress's Dalvir Singh Goldy.