'Lord Ram' calls BJP leader 'Ravana', refuses to burn effigy
Oct 02, 2017 05:35 PM IST
The actor portraying the Hindu god Ram accused the BJP mandal president in Sirohi of being the demon king.
Hundreds of people flock to watch the Ramleela organised by the municipal council in Rajasthan's Sirohi town on Dussehra, a Hindu festival that marks the victory of good over evil, every year.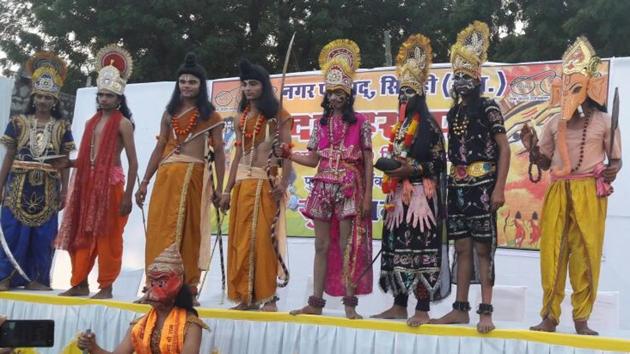 This year, however, there was a twist in the tale.
The actor portraying the role of Lord Ram refused to shoot the arrow to burn the effigy of Ravana during Ramleela, the popular drama that enacts the Hindu deity's battle to kill the 10-headed demon king to rescue his wife Sita.
Instead, Manoj Kumar Mali, the actor portraying the Hindu god, called the Bharatiya Janata Party's (BJP) mandal president in Sirohi, Suresh Sagarvanshi, the demon king.
"The actual Ravana is sitting on the stage, politicising every issue. Given this scenario, Lord Ram has to return disappointed," said Mali.
He alleged that the committee presided over by Sagarvanshi gets more money as a grant from the municipal council than all the other committees.
"Sagarvanshi is known to do politics over trivial issues. In Sirohi there are around 20 Garba committees that organise cultural programmes during Navratri," Mali told the Hindustan Times.
"All the other committees get Rs 11,000 as grant while the one where Sagarvanshi is involved gets Rs 31,000. Moreover, even though the Dussehra programme was organised by the municipal council, most of the councillors were not present which again suggested petty politics at play," he added.
The organisers and politicians were left in a tough spot after Mali along with around 100 people from his group, portraying the roles of various gods, goddesses and the Vanar Sena or the army of monkeys, walked out of the show shouting slogans against the organisers.
The organisers had to dress a child sitting among the audience as Ram, who finally fired the arrow to burn the effigy.
Sagarvanshi denied the allegations levelled against him.
"The incident was incited by a handful of people to create ruckus at the celebrations. The Garba celebrations with which I am associated is the biggest in the city and therefore the expenses are also more than other such events which explain the more grant money," he told HT.
Sagarvanshi added the committee will not accept the grant from the civic body from next year.
"We have given it in writing that we don't want the grant from next year. The total expense is around Rs 8 lakh and we can organise the celebrations even without the grant," he said.