Rajasthan: One killed, 32 hurt as protest against gangster's death turns violent
Jul 13, 2017 04:55 PM IST
A rally was organised by Rajput groups demanding a CBI probe into the death of gangster Anandpal Singh in a police encounter in Churu district on June 24.
At least one person was killed and 32 people, including more than 20 policemen, were injured in Nagaur district of Rajasthan after a rally organised by Rajput outfits demanding a CBI probe into gangster Anandpal Singh's death turned violent on Wednesday evening, officials said on Thursday.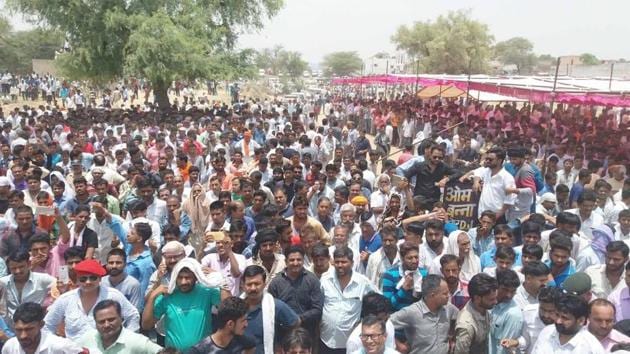 Anandpal was killed in a police encounter in Churu district on June 24. Anandpal, who belonged to the Ravana Rajput community, was on the run since September 2015 after escaping from police custody.
Stay tuned with breaking news on HT Channel on Facebook.
Join Now
With more than three dozen criminal cases against him, including six of murder, he was allegedly the most wanted criminal in the state.
Police said Haryana's Lalchand Sharma died in the clashes, and Mahendra Singh, a resident of Jodhpur, was critically injured. Singh has been admitted to the intensive care unit of a hospital, they added.
"We are trying to find out more details about Sharma but it appears that Singh had come to the rally," additional director general of police (law and order) NRK Reddy told the Hindustan Times.
A gunman of one of the Indian Police Service (IPS) officers was seriously injured. The other injured include five constables of the Railway Protection Force (RPF).
Several of the injured have been referred to Jaipur for treatment.
A crowd of more than 50,000 people that had gathered at Saanvrad, the village of the gangster, pelted stones at official vehicles, set a police vehicle on fire and snatched weapons, Reddy said.
"Three of our weapons are missing as we are suspecting that the protestors managed to take hold of an AK 47 and two pistols. Two of the weapons were snatched from the gunman of Nagaur SP Paris Deshmukh," he added.
"The protesters were trying to lock the RPF constables inside the outpost and set fire to it. Nagaur SP reached there with force and tried to rescue them when they roughed him up and also set fire to his vehicle," said the ADG.
Police said the mob also tried to attack IPS officer Monika Sain.
"We located Sain after more than one hour and it took us around two hours to locate all the cops. At present we are not yet sure whether the police opened fire after being cornered by the mob and are trying to find out details," said a senior police official.
A curfew has been imposed in Saanvrad and the internet connection in Nagaur district has been cut off.
"We are trying to get more information and strict arrangements are being made to maintain the law and order situation.
Rajput groups have been protesting in different parts of Rajasthan, indulging in vandalism and blocking roads. Rajput leaders have threatened the government and said that the community will give a befitting reply to the ruling Bharatiya Janata Party at the time of the elections.
Lokendra Singh Kalvi, founder of the Shree Rajput Karni Sena, one of the outfits demanding the CBI probe, appealed to the community members to march towards Jaipur.
"One body couldn't be handled before as the government couldn't agree upon the CBI probe and now another person has died," Kalvi told HT.
"The shortsightedness of the government resulted in the violence that happened on Wednesday. There is anger among the Rajput community and that's why I have appealed to them to march towards Jaipur," he added.