Space-starved urban villages are fire hazards waiting to happen
Hindustan Times, New Delhi |
Gulam Jeelani, Shiv Sunny and Tanushree Venkatraman
Jan 01, 2018 01:08 PM IST
The Kamala Mills fire incident throws sharp light on how urban spaces are being tightly packed with commercial complexes, that more often that not flout basic safety norms.
A day after 14 people were killed in a fire at Kamala Mills Compound, Union minister of state for housing and urban development, Hardeep Singh Puri, termed the accident a "wake-up call" for Delhi even as he called for "zero tolerance" towards those flouting fire and safety norms.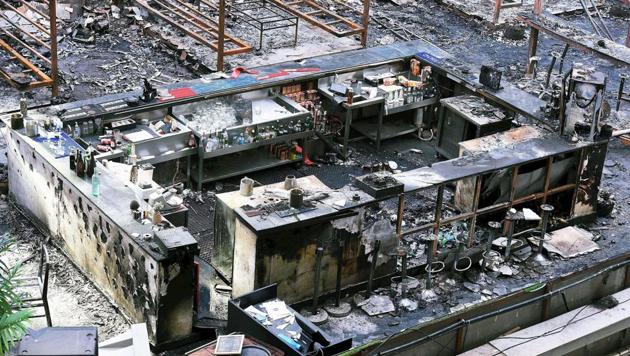 From the heaving alleys of Hauz Khas Village in South Delhi to the tightly packed commercial complexes in Lower Parel in Mumbai, hundreds of pubs and restaurants have mushroomed, with many disregarding even basic fire safety measures.
Stay tuned with breaking news on HT Channel on Facebook.
Join Now
In most cases, the buildings themselves have faulty designs. In some, rules have been flouted. Whatever the case, these are accidents waiting to happen. Corrupt restaurateurs, venal city administrators, and oblivious customers are a bad mix. Usually, no one notices anything until, as in Mumbai, things go horribly wrong. By then, it is too late.
Still, there are lessons to be learnt, for those who are open to doing so.
In September, the Delhi high court, while referring to the poor emergency and fire safety preparedness of Hauz Khas, termed the area a "ticking time bomb". In many ways, that's an understatement.
Hauz Khas' restaurants and pubs are housed in multi-storey buildings in an area that resembles a rabbit warren. The roads, already narrow, have been encroached upon by some establishments, making it impossible for emergency services vehicles to access. Inside, the buildings are dimly lit, have narrow passageways (and narrower staircases). Worse, most have the same portal for entry and exit.Indeed, the Delhi Fire Services told the high court that the roads in Hauz Khas are so narrow that there is no space for fire tenders to turn into them.
The local corporation doesn't seem perturbed too, said a person who owns a store in Hauz Khas. "We have been asking South Delhi Municipal Corporation to at least keep a water tanker (handy)," added this person who asked not to be identified.
Hauz Khas is an urban village. The buildings that house popular pubs and restaurants, were never meant to house them. Amid commercial pressure, administrators allowed residential spaces to be used for commercial purposes – on payment of a one-time conversion fee. This is similar to what happened in Khan Market (another accident waiting to happen), and Connaught Place.
"The agencies are bound to allow conversion of residential spaces into commercial ones considering the pressure of commercialisation in cities like Delhi. But, it is imperative for agencies to monitor if fire safety norms are followed," said AK Jain, former commissioner (planning) Delhi Development Authority (DDA). The capital's Master Plan 2021 allows the use of even floors above the first one for commercial purpose, which was not the case in earlier plans.
Flouting norms
Current laws in Delhi do not require restaurants and pubs with seating capacity for less than 50 persons to obtain a no-objection certificate (NOC) from the fire department. Not that this law is followed.
At present, barely 400 of the 5,000 restaurants in the city with a declared seating capacity for over 50 people have the clearance, according to Delhi Fire Service (DFS). The owners, officials said, get around the rule by operating from multiple floors in the same building – showing they abide by the 50 person seating rule.
"Over the years, the restaurants have been converted into multi-storey rooms connected by a narrow and steep staircase. They show the number of guests per floor which is less than 50 to get around the rule," an official of DFS said.
Non-compliance with planning norms is one reason being proffered for the tragedy at Kamala Mills in Mumbai. A number of the restaurants operate out of old mill buildings in South and Central Mumbai, having made interior adjustments as per their requirements, not the rules. In a space-starved city, the land that once housed textile mills, has become a prized commodity. Over the past decade, Lower Parel metamorphosed into a hub of pubs, bistros, restaurants and cafes constructed in a haphazard manner on narrow lanes inside mill complexes. Kamala Mills itself has more than 30 pubs and restaurants.
When Mumbai decided to redevelop mill land in 1991, the then Maharashtra government announced that the two-thirds of the area would be utilised for affordable housing and open spaces. In 2001, the rules were tweaked, paving the way for more development.
"So, if out of 12,000 square metres of space, the civic body was to get 4,000 square metres as per the original mandate, this got reduced drastically (under the new rules); there is hardly any open space (now)," said Pankaj Joshi, executive director of Urban Design Research Institute (UDRI). Safety was another casualty.
Safety must be priority
Arunava Dasgupta, head of urban design at School of Planning and Architecture (SPA), said while the mushrooming of recreational centres cannot be stopped, the authorities need to focus on pre-emptive safety measures.
"(Safety) Norms have to be put in place prior to these establishments coming to operation," he said. That's easier said than done.
In July 2016, the then lieutenant governor of Delhi, Najeeb Jung, approved an amendment to the Delhi building bylaws, to make it mandatory for all restaurants to get a fire no objection certificates (NOC) irrespective of the space and number of guests they can accommodate. The proposal remains on paper.
Following the Kamala Mills accident, Naresh Kumar, chairman of New Delhi Municipal Council (NDMC), which regulates most of Delhi's most happening markets, including Connaught Place, warned restaurant and pub owners on Saturday that their premises would be sealed in case they do not abide by trade license conditions, fire safety norms and seating capacity regulations. Likewise, Mumbai's civic body, the Brihanmumbai Municipal Corporation came down heavily on eateries for non-compliance of fire norms, and asked them to display boards on their fire compliance.
With the accident still fresh in everyone's mind, even restaurant and pub owners are doing their bit.
Delhi's Khan market has 40 bars and restaurants with narrow, dimly-lit staircases and inadequate fire exits. After the Kamala Mills accident, the local traders body called for a meeting.
"We have asked owners to check fire safety measures, make sure stairs are well lit with enough space for evacuation. We also told owners to restrict the number of guests as per law and not use the open terrace," said Sanjiv Mehra, president of the body.
Need better laws
But nothing can take the place of better laws, and ensuring better compliance with the laws, say experts.
"Sealing eateries won't help. Taking care of public safety should be the goal. The owners of the shops are not to be blamed for catering to public demand. What is wrong is either there is a law that is being flouting or the law has not been properly amended as cities develop. The has to be a regime of norms put in place which are well known to everyone and consequences of not following the laws also have to be known all stakeholders," Dasgupta said.
In Mumbai, experts say the local administration rarely cracks down on restaurants and pubs – other than simply issuing notices.
"There are laws in place to ensure fire-safety even in dense areas, but implementation and third-party audits are important. One also needs to see if the guidelines are being adhered to time and again," Joshi said.
If that doesn't happen, everyone is safe only till the next accident.