Supreme Court judgment on Aadhaar leads to confusion in private sector
Sep 27, 2018 11:23 PM IST
Some argue it is now impossible for private companies to use Aadhaar data at all; others say Aadhaar can be used as long alternatives are made available to customers.
A day after the Supreme Court struck down Section 57 of the Aadhaar Act that allowed sharing of Aadhaar data with private entities, companies don't have clarity on what the ruling means for their business.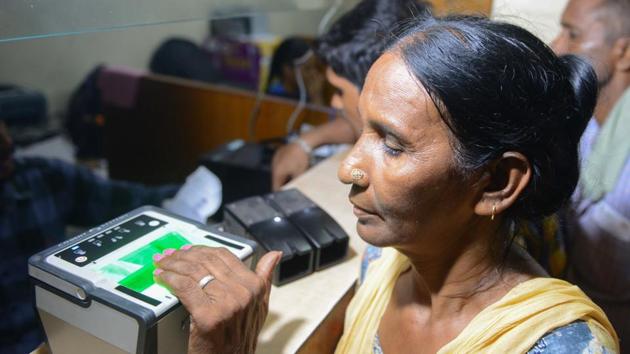 Hindustan Times contacted over a dozen companies in the telecom, banking and finance sector. Many are waiting for a notification from their respective regulatory authorities; few say the judgement doesn't affect them. There is a disagreement even in the legal community on the interpretation of this specific section of the verdict. Some argue it is now impossible for private companies to use Aadhaar data at all; others say Aadhaar can be used as long alternatives are made available to customers.
Aadhaar data is primarily used for e-KYC purposes. e-KYC is a paperless Aadhaar-based process used to ease the customer identification process and get details such as name, address, date of birth, sex and photograph. eKYC, companies say, speeds up the process and reduces the KYC cost for the company. Following the verdict, two big questions loom for the private sector. First, will the companies be required to delete existing Aadhaar-related data? Second, can the firms make use of Aadhaar e-KYC services going forward?
Individual customers always had the option to get their data deleted — even before the judgement. UIDAI guidelines say that an Aadhaar number holder can revoke consent given to any entity "for storing his e-KYC data or for sharing it with third parties" and upon such revocation, the entity "shall delete the e-KYC data and cease any further sharing". Nafees Ahmad, Chief Information Officer of Indiabulls Housing Finance Limited, said the company will delete Aadhaar-related data if customers provide with alternative KYC related documents. Ashish Gupta, chief technology officer of PolicyBazaar, an insurance web aggregator, also said customer data will be erased if requested.
"The judgement doesn't change anything for us," Gupta said, as the company never made Aadhaar e-KYC a compulsory requirement. But companies are not sure if the verdict will require them to delete customer data en masse — as Union Minister Ravi Shankar Prasad told Hindustan Times in an interview.
All of India's three top telecom companies — Bharti Airtel, Vodafone-IDEA and Reliance Jio — directed HT's questions to the Cellular Operators Association of India (COAI), an industry association of mobile service providers, saying this is an industry issue. "The association [COAI] is awaiting clarity on some of these questions from the DoT (Department of Telecommunications)," Ranjan Matthews, DG of COAI said. "Any UIDAI circular or anything else has to be routed through the DoT for instructions to us," he said.
DoT functions under the aegis of Ministry of Communications and gives license for telecom companies to operate.
Matthews explained that there were two notifications from the DoT. First was regarding the permission to use Aadhaar as a viable alternative for new customers activate to their phones. The second was for re-verification of existing phone numbers by linking it to Aadhaar. It is the second order that the DoT needs to clarify, Matthews said.
Banks: waiting for RBI
None of the major banks — SBI, ICICI, Axis Bank, Yes Bank, HDFC — responded to HT's request for comment. One bank official, on the condition of anonymity, said that everybody is trying to understand how this will pan out. Banks will have to abide by the judgement especially in the context of new account opening, the official said. But the Reserve Bank of India is the banking regulator. "They [RBI] will have to issue a notification or circular which banks will follow," the official added.
Startups
Aadhaar Bridge, a product of Bengaluru-based startup incubator Khosla Labs that provides access to many Aadhaar based authentication services said it is consulting its legal team about the implications of the judgement. The company claims to have more than 250 clients — including cab aggregator Ola. A spokesperson said the company is getting numerous calls from customers but is waiting for UIDAI's notification for clarity—as the agency is the first point of contact.
Lawyers disagree
Sanjay Hegde, a senior Supreme Court advocate, said private companies can't restrict access to services without Aadhaar. But companies can accept Aadhaar data if the customer voluntary shares it. But Jaideep Gupta, another senior advocate, said otherwise: "The section that permitted private companies to access Aadhaar data itself has been struck down and declared unconstitutional. So Aadhaar data can't be given to private companies at all." Consumer consent has no role to play in this transaction, he said, as "the judgement makes it impossible for the statutory authority [to give data to private companies."
Advocate Vipin Nair said there is considerable confusion in the domain. "Lot of petitions will come in times to come for clarity," he said. The majority judgement did not technically say "what is to be done with the data that was stored between 2009 to 2016 — when there was no act in place," he added. Things remain unclear.
"Exciting news! Hindustan Times is now on WhatsApp Channels
Subscribe today by clicking the link and stay updated with the latest news!"
Click here!
Get
Latest India News
along with
Latest News
and
Top Headlines
from India and around the world